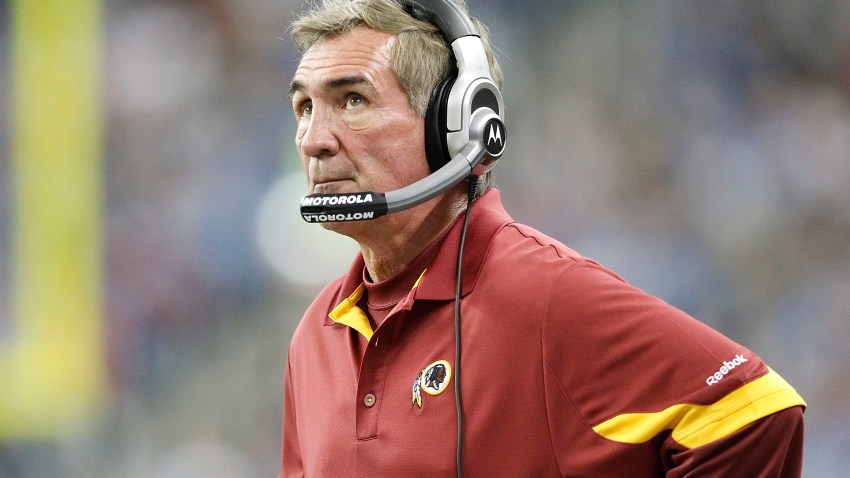 As you might have heard, Jason Cole of Yahoo! Sports unleashed on the Redskins earlier this week, saying the team should fire Mike Shanahan and start afresh with a new coach.
If you happened to listen to the rest of the video – and I can't fault you if you didn't – Cole went on to say Washington needs to find their franchise quarterback in the worst way, but that was the only sensible thing he managed to say.
Cole couldn't be more off the mark on the coaching issue. After Dan Snyder spent the better part of year and a half pursuing Shanahan – and subsequently taking a backseat to one of the most renowned coaches in the business – he's not going anywhere.
The political footballers may disagree, but change is the last thing needed in Washington. The constant turnover was one of the reasons a guy like Carlos Rogers jumped ship. The changing of the guard within the coaching staff and on the roster resulted in little success and lots of futility. Players signed with the Redskins to collect a paycheck and nothing more.
All of that is gone now, which is why it would be silly to blow the Shanahan era up so quickly. The Redskins are starting to discover what it takes to become a well-run professional franchise. Shanahan's presence alone never guaranteed an instantaneous change on the field, but it has changed the mentality off of it.
The Hall of Fame coach is dealing with a lingering set of obstacles. He tried a quick fix in 2010, but by season's end it was evident the Redskins' woes were rooted too deeply for Donovan McNabb to save them.
This is the first year where a true foundation is being put into place. If Snyder loses his patience and throws this rebuild – yes I'm calling it that – on the backburner, you can kiss a few more seasons goodbye.
It may not be sexy keeping a coach with a record worse than Jim Zorn's (Shanahan is 9-14 in his first 23 games as the Redskins coach. Zorn went 10-13), but the track record is still there, players support him and he has a plan, which is more than you say about several other Redskins coaches the past decade.
However, defending Shanahan does not mean I'm giving him a free pass. The offense hasn't progressed in any way this season and what should have been an improved defense is suffering the consequences.
"We all need to continue to get better," said offensive coordinator Kyle Shanahan.
Mike's son has taken plenty of heat for his playcalling this season. He's been criticized for abandoning the run, mismanaging games and overestimating his system given the injuries and lack of talent on offense. Some of the outcry is warranted, but Kyle isn't the monster fans would have you believe he is.
"When you're not effective, you're going to get criticized and we understand that and hopefully you do a much better job getting these guys ready and play at a higher standard," Mike Shanahan said.
The Redskins rebound won't happen overnight and maybe it's time we lower our insurmountable expectations a notch or two. This is a team in transition and it wouldn't hurt to patiently watch the Shanahan experiment play out.
However, the head coach admitted the team hasn't been ready to play the past few weeks. If that trend continues, expect to see more Jason Coles popping out of the woodwork. I'm sure many rational people might agree with Cole after watching three hours of Redskins football every Sunday, but the reality is, the Redskins cannot undergo another overhaul.
Snyder has himself a proven coach with three years left on his contract. There's no better time than now for him to exert whatever patience he possesses. He's made his bed with Shanahan and in the grand scheme of things, the team is better for it.
Now about that franchise quarterback?