Four baby turtles with painted shells were detained at Washington Dulles International Airport earlier this month.
Customs officers seized the turtles from a family returning from a trip to China on Sept. 5, U.S. Customs and Border Protection (CBP) officials said in a statement Friday.
The family apparently purchased the turtles from a street vendor. They declared the turtles to customs officers at Dulles. The family was referred to an agriculture inspector from the U.S. Fish and Wildlife Service (FWS) to determine if the reptiles were admissible to the United States.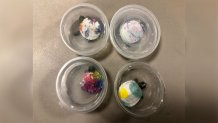 Customs officials then detained the turtles for examination.
An FWS inspector removed the paint from the turtles' shells the following day and determined they posed no threat. The family got back the turtles but was issued a warning for failing to have an import permit.
Young turtles pose public health concerns because they are especially susceptible to carrying salmonella, CBP said. A multi-state outbreak of salmonella infections last year was appparently connected to pet turtles.
Local
Washington, D.C., Maryland and Virginia local news, events and information
Photos: Gold Grillz, Mink Furs and Other Items Lost at Dulles Airport
A number of curious items have turned up at Dulles. Things in the lost and found include gold grillz, mink furs and many, many laptops.