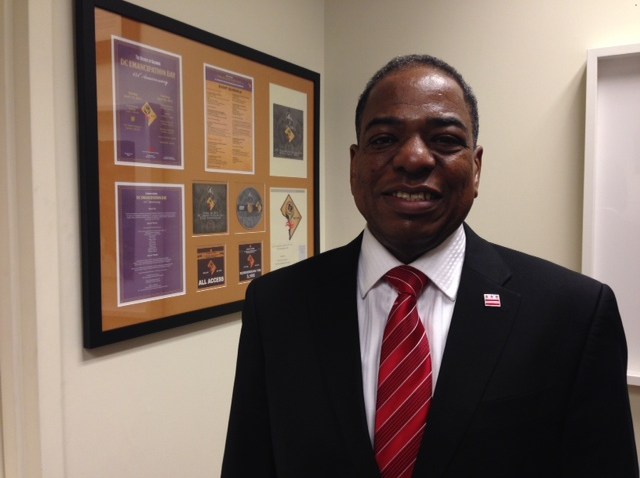 After 15 years of serving the District as a council member in the shadow of Vincent Gray, Vincent Orange (D-At Large) says he's ready to distance himself from the embattled mayor.

At first look, 56-year-old Orange's approach to the April 1 primary seems more hands-on than that of fellow councilmember Jack Evans. Orange stapled his own signs onto streetlamps in early 2014, while Evans' red, hashtagged signs have been a staple of nearly every city street corner since last summer.

"I think if I was Evans, I would be disappointed," Orange said, referring to Evans' polling numbers. "As time goes on, we'll be able to get our message out."

That message seems to center around the recent passing of the minimum wage bill -- as well as separating himself from Gray.

"I introduced and passed the minimum wage bill at $11.50 per hour while he only wanted $10 per hour," Orange said. "The mayor has his own problems that he's undergoing. We want to make it clear that you wouldn't want to vote for someone who's under investigation and may have to step down."

Orange vehemently denies claims he illegally accepted money from businessman Jeffrey Thompson back in 2011 during Orange's special election campaign.

"I've been audited five times; I came back clean," Orange said. "Nothing was ever referred to the attorney's office. I reported everything I received and I'm clear of that. Obviously the U.S. attorney had questions, and unlike Gray, I answered those questions. I provide whatever they want. I'm free and clear of that and I'm moving forward."

Orange went on to say every other councilmember -- aside from fellow mayoral candidate Tommy Wells -- has received campaign contributions from Thompson.

"I just happened to be in the special election when all this focus came on me," Orange said. "I'm a certified public accountant. If my stuff wasn't in order, then shame on me."

As for future infrastructure plans, Orange is a staunch supporter of transforming the former Redskins stadium into a family-centered entertainment venue.

"We should have an indoor water park, things of that nature that we can do at the RFK campus," Orange said.

Early voting for the Democratic primary begins March 17.