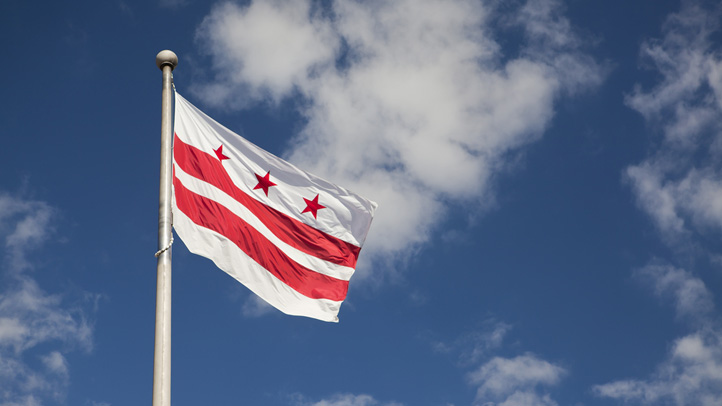 On Veterans Day Monday, we took in the World War I Memorial on the Mall that commemorates the 635 District citizens who were casualties of that war.

D.C. Del. Eleanor Holmes Norton proudly announced the end to a years-long effort in Congress to convert the little D.C. memorial to a "national" memorial to that war.

"The D.C. war memorial, paid for with the blood and treasure of D.C. residents, will remain exclusively dedicated to the [District's] veterans," Norton said to applause.

Norton also invited D.C. fire investigator Tomi Rucker. Her son Jonathan joined the Navy last fall and graduated from the training center in Great Lakes, Ill., last winter. His parents — his father is D.C. Police Sgt. Michael Boyd — traveled to the graduation ceremony last January, where, as the hundreds of newly minted seamen were introduced, the state flag of each was dipped in the graduate's honor. But for Jonathan, there was no D.C. flag. His parents contacted Norton.

Norton is pushing a bill in Congress to require all federal agencies and the military to include the D.C. flag when the flags of the 50 states are displayed.

Norton said she regretted that Seaman Jonathan "was prepared to lay his life on the line for a country that will not acknowledge his service" with his flag. Norton is also asking President Barack Obama to issue an executive memorandum ordering the inclusion of the D.C. flag.

"Once and for all," she said, "we ask the president to wipe clean this disrespect."

Norton has already gotten the D.C. flag included in the array of state flags at Union Station. She also insisted that the District be included when a commemorative coin was minted for each of the states.

■ Learning his name. David Grosso scored an upset victory last week when the former D.C. Council staffer defeated incumbent at-large Council member Michael A. Brown.

Grosso appeared on the WAMU "Politics Hour" with Kojo Nnamdi last Friday. His last name is pronounced with a hard emphasis, "Grah-so." Say it correctly and you'll sound like you've been a supporter all along.

Grosso said his campaign focused a lot on educational issues and that he would do so during his term in office as well. He said he hoped Chairman Phil Mendelson would re-establish an education committee on the council and noted that he'd like to chair it. Mendelson was an opponent of the mayoral school takeover and may well re-establish the committee.

Some council members are content to leave education issues in the overall Committee of the Whole. That actually means that no one really has to focus on them. Those who do are accused of meddling in the administration of the schools. If they don't get involved, they're accused of ignoring the schools.

Grosso told the "Politics Hour" that he doesn't want to micromanage, but he wants more public input into how schools are run, especially with the announcement that nearly two-dozen will be closing.

■ A bridge to everywhere. When we travel around the city, we don't often think about award-winning streets. The District government has poured lots of money and time into reworking miles of roadway over the past 15 years. Now, a specific project is being singled out for praise.

The 11th Street Bridge (actually three bridges) has been named a top bridge project of 2012.

The award comes from the editorial staff of Roads & Bridges magazine, in the November issue. We're sure you subscribe. But if you don't, we'll note that the magazine cited the project as "a triple-crown winner in traffic congestion relief, innovative delivery and environmental stewardship."

The project over the Anacostia River is replacing two bridges that were constructed in the 1960s. The main benefit is taking heavy traffic off the Southeast-Southwest Freeway and putting it onto northbound and southbound I-295 without jamming up Pennsylvania Avenue SE or historic Anacostia.

Construction of the new bridge began under then-Mayor Anthony Williams. It'll be completed soon. Many drivers, including us, can't wait.

■ A final word. Elissa Silverman is finally getting a little recognition for her hard work.

The former Washington Post reporter and City Paper columnist is being honored Sunday by Jews United for Justice. It's not for her fine journalism, but for her more recent work for the D.C. Fiscal Policy Institute, where she helps campaign for more and better attention to social service issues. The award is named for Rabbi Heschel, a famed activist.

If you want to snag a last-minute ticket, check the website, jufj.org/heschel2012.