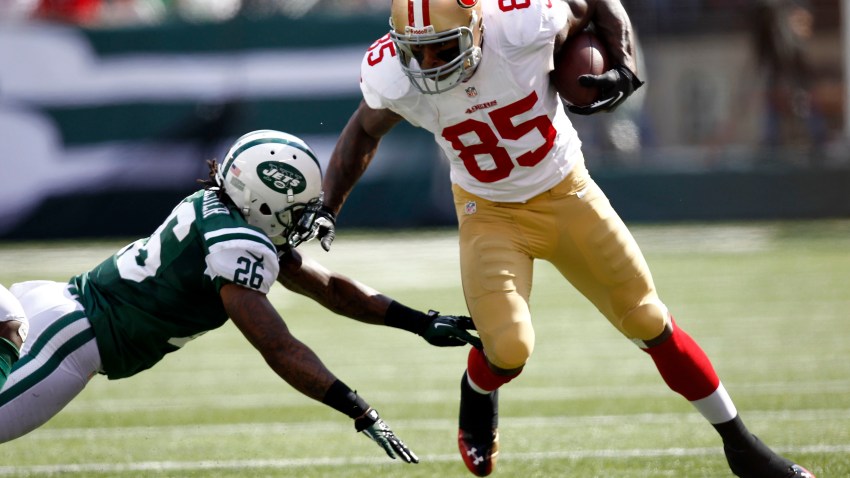 Vernon Davis is a star NFL tight end for the San Francisco 49ers.

He was on the field late Sunday night near Boston as his team outlasted the furious comeback of the New England Patriots, 41-34. It was an exhausting game.

But by 2 a.m. Monday, Davis was on the road for the eight-hour drive to Washington. He had an appointment nearly as important to him as that game.

Around 11 a.m., Davis bounded through the front doors of the George Truesdell Education Campus in northwest Washington.

He was there to pass out school supplies and gifts to the more than 400 students who now attend the school where he spent fifth and sixth grade.

"It's all about ya'll!" he shouted in a friendly voice. "Are ya'll excited?"

"Yes!" came the reply from the auditorium filled with students, many of them 6- and 7-year-olds like the children gunned down on Friday in Connecticut.

"Sad, it's sad," Davis said in an interview with NBC4. His visit — and long drive — was planned long before the shootings at Sandy Hook Elementary School. "Very touching, very touching," he said. "My heart goes out to all the families and the kids."

As a nation grieves — and girds for the political battle to come over gun control — this giant of a man at 6-feet-3-inches tall and 250 pounds patted children on the head and gently spoke to them as they marched by for their gifts. Davis had to stoop way over; they were barely one-third his height.

He said the simple message he takes from Connecticut is, "Pay attention and love the kids, especially right now." He said it was important to return to his schools — he also graduated from Dunbar High and the University of Maryland. "When I was a kid, I always wanted a hero to show up," he said with more modesty than that sounds. He recalled that he was always interested in art, but initially balked at showing it in school. But at the university, he changed his studies to be an art major.

"Growing up, I was afraid to pursue art," he said. "So my message to the kids is to not be afraid, don't worry about who's out there judging you. You can be yourself and you can follow your dreams."

Sure, it's kind of corny, but it's nice to hear from a strong young man whose sincerity was reflected in all the little eyes that were transfixed on him.

While waiting for Davis, we had spoken to Charles Robinson. He has been the business manager of the school — and all around go-to guy — since 1993. He had been rushing around making sure everything was just right for the Vernon Davis visit.

"Vernon was very mature and very responsible when he was here in the fifth and sixth grades," Robinson recalled.

Reflecting on Connecticut, Robinson said schoolteachers and staff everywhere know what to do. "Each day and every evening, we do the best we can to try to uphold safety and know that the kids feel, and the parents feel, too, that we're all part of this. We're all in this together."

Principal Mary Ann Stinson, in her third year at Truesdell, had watched as the young children marched into the auditorium, some wearing reindeer horns they had made of cardboard and clothespins.

"The holiday message for today," she told us, "is cheer and generosity and inspiration from Vernon Davis."

In her office just off the front lobby, she said she had contacted her staff over the difficult weekend to reassure everyone that they would try to make Monday as normal as possible.

"My hope was that parents turned the TV off over the weekend so the boys and girls had as little exposure as possible," she said. "We're really going by what our hearts tell us, and listening to the boys and girls."

Stinson said she had taken special training last summer for principals and senior staff. It was for what to do if there ever is what's called "an active shooter" in your school. Her teachers had practiced emergency drills. Nothing about any of this says "holiday."

"Yes, it's reality," she said. "So, that's what we face. We want our schools to be as safe as possible every single day."

■ That was then. As your Notebook stood among the children on Monday, we recalled our own school safety training.

We had fire drills. It was mainly an orderly march out the door to the schoolyard.

We had atomic bomb drills. For that, you put yourself under your little desk. Even then, my classmates thought that was a ridiculous waste of time. We knew an atom bomb didn't care about our little desks. It just wasn't real.

Leaving Truesdell Monday, we looked up at the faded "Fallout Shelter" sign bolted to the exterior wall near the front door.

Too bad there's no sign to put up that might discourage a crazed gunman.