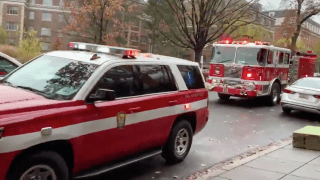 One man died and another man was transported to a hospital with injuries after a double shooting in an apartment building near the National Zoo Thursday morning, D.C. police say.
Edward Pearson, of no fixed address, died, police said in an update Friday. He was 39.
D.C. police and D.C. Fire and EMS were called to an apartment building in the 2900 block of Connecticut Avenue NW at about 9 a.m. and found two men shot on the sixth floor.
One man was transported to a local hospital. Pearson was found "unconscious and not breathing" on the scene and was later pronounced dead, a D.C. police spokesman said
Homicide detectives were called to the scene. Anyone with information on the case is asked to contact police. A reward of as much as $25,000 is available.
Stay with News4 and NBCWashington.com for updates to this developing story.