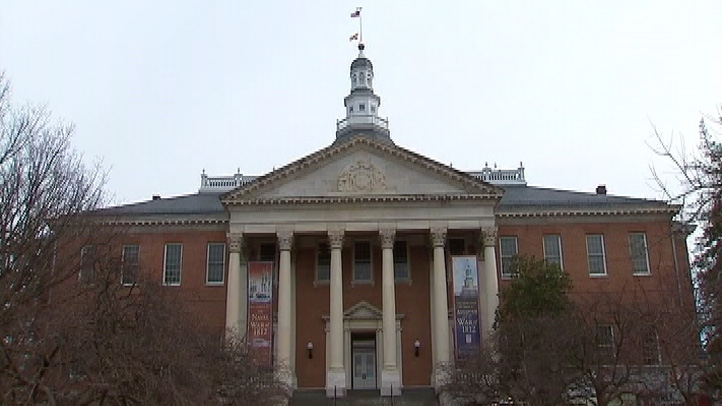 Gov. Martin O'Malley said Friday he believes there is optimism an agreement will be reached this session between legislative leaders on a transportation revenue package.
O'Malley, a Democrat, declined to mention specifics as talks continue between his staff and staff members of House Speaker Michael Busch, D-Anne Arundel, and Senate President Thomas V. Mike Miller, D-Calvert.
The governor noted he believes there is growing recognition in the two houses of the Legislature that there is a need to get something done on transportation funding this year.
Critics of delaying action point out that the next session will be held in an election year, when it will be harder to take tough votes.
The challenge of how to raise hundreds of millions of dollars in new revenue annually has been a top concern of the session.
Last year, O'Malley proposed phasing in a 6 percent sales tax on gasoline at 2 percent a year for three years, but the proposal stalled amid high gas prices.
This year, Miller has proposed a menu of options. One would allow county governments to raise up to 5 cents per gallon on gas sales for local transportation projects. That would be on top of the state's 23.5-cents-per-gallon tax, which hasn't been raised since 1992.
Miller also has pitched a separate 3 percent sales tax on gasoline. He also has recommended studying the idea of selling or leasing the Intercounty Connector. Another proposal would allow local transit authorities that could raise revenue for rail projects.
Maryland is facing a major backlog in transportation projects that are in demand as residents face heavily congested roads, particularly in Montgomery and Prince George's counties, near the nation's capital.
Across the Potomac River, Virginia Gov. Bob McDonnell wants to eliminate the state's 17.5-cents per gallon gas tax and replace it with a sales tax increase of less than a penny on the dollar.
Copyright AP - Associated Press