Police shot and killed a man in a McLean, Virginia, home, Thursday night after two calls about a person in crisis, Fairfax County Police said.
Jasper Aaron Lynch, 26, died at the scene after three officers fired Tasers and a gun, Police Chief Kevin Davis said at a press conference around midnight. It happened in the 6900 block of Arbor Lane, police said, within a residential neighborhood with large homes.
The first call about an "emotionally disturbed person" from a family friend came about 7:10 p.m., and officers arrived with a clinician, according to Maj. Eli Cory.
"Unfortunately, they were not able to find the person they were looking for," Cory said.
We're making it easier for you to find stories that matter with our new newsletter — The 4Front. Sign up here and get news that is important for you to your inbox.
"We actually went into his home," Davis said. "When officers couldn't find him in his home, officers spent several minutes driving around ... looking for him."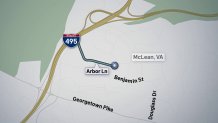 A man who lives nearby said his wife and daughter encountered police while walking their dog between 7:30 and 8 p.m.
Northern Virginia
Northern Virginia news, events and updates
"When they came home, they said: 'You know, a police officer stopped us and asked us if we'd seen an individual who looked like they were about 26, short brown hair,'" Robert Heitkamp said.
The pair hadn't seen a man and were told to go on their way if they saw the man and he appeared to be fine, Heitkamp said.
The clinician gave additional information to people who called the police, Davis said.
At about 8:30 p.m., there was another call for service from a family friend. Davis said the nature of this second call was far different from the first call.
"Caller's back on the phone, saying the subject is now throwing things," a dispatcher said, according to recordings.
Officers responded without a clinician and were able to find a man, police said.
Officers were in the foyer of a home and the man appeared with objects in his hand in an adjacent, connected room, Davis said. Lynch threw something believed to be a large decorative wooden tribal mask, then charged at the officers swinging a bottle in a striking motion, police said.
Two officers used stun guns multiple times, then a third officer fired a gun, police said.
"The man actually collapsed, right in front of the front door, immediately outside the home," Davis said.
Officers immediately provided emergency services, Davis said.
"We have one subject, multiple shots to the chest. We need an ambulance NOW," one official is heard saying on a recording of dispatch audio.
In the background, a voice is heard saying, "Lay down."
Lynch died on the scene.
"It was a very quick interaction," Cory said.
No officers were reported injured.
According to Davis and Cory, the Major Crimes Bureau is investigating the criminal matters in the case and the use of force.
Davis said the department was in touch with the commonwealth attorney's office.
"We take all officer-involved shootings very seriously," Davis said. "Any loss of life is just tragic."
All three officers were wearing body cameras, and footage will be released within 30 days, Davis said. The officers are on restricted duty pending the outcome of an internal affairs investigation.
"It's a peaceful neighborhood," said Paul Olander, a neighbor. "It's kind of shocking to see this happen but I guess this kind of thing could happen anywhere."
Another neighbor, Michele Petersen, said she is friends with the family that lives in the house.
"Could be any of us," Petersen said. "It's a crazy society; lot of people are getting shot by the police."
This is the third time in about a week that police have shot someone in Fairfax County.
Last Thursday, county police shot and killed 37-year-old Christian Parker at Springfield Town Center. Police say they had a warrant out for Parker's arrest, and that he pulled a gun from his car.
And on Tuesday, Herndon police say they shot a man in the arm at the Dulles Park shopping center. According to police, the man was in a stolen car and showed a weapon while trying to run away.
"We take all officer-involved shootings very seriously," said Chief Davis. "We've already been in touch with the commonwealth's attorney's office, which is routine each time we have an officer-involved shooting in Fairfax County."
Stay with News4 for updates.