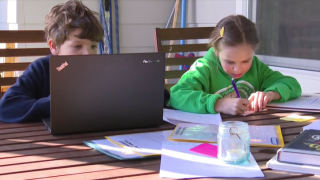 Students in Fairfax County Public Schools encountered tech problems Friday morning that the school district attributed to an internet service provider outage, but Verizon said that the company has confirmed there were no issues.
Whatever the source of the tech glitch, it hampered virtual learning for some students Friday morning. The school district said in a tweet shortly before 10:30 a.m. that school district officials had attributed the problem to technical difficulties from Verizon.
"An internet service provider in our region (Verizon) is experiencing technical difficulties this morning. This has impacted distance learning for some of our students and staff," the school district said in a tweet.
However, a spokesman for Verizon told NBC Washington, "We have confirmed there are no issues with the Verizon wireline or wireless network in the area. We encourage anyone with connectivity issues to call customer support."
Some comments posted by parents on social media in response to FCPS' tweets expressed doubt that the problem was a Verizon issue.
A call placed by NBC Washington to FCPS to clarify the source of the trouble was not immediately returned.
During the disruption, the school district instructed students having connection issues during virtual classes to switch to independent lessons provided by teachers.
FCPS later tweeted in an update, "Technical issues have been addressed and classes are in session. We experienced an interruption this morning in which some students appeared to experience connection issues from their homes, which may have been related to local internet service, mainly between 9 and 10 a.m."
"Thank you for your patience as we worked to address the issue," FCPS tweeted.
The outage tracker website DownDetector reported "Possible problems at Verizon" Friday morning. A graph shows a spike in outage reports at 10:33 a.m., with 362 reports of outages. By shortly after 11 a.m., that number dropped to 270 reports and by early afternoon, the site was reporting "No problems at Verizon."