You'll be able to eat inside a restaurant and go to the gym in Northern Virginia within days.
Northern Virginia can enter reopening phase two on Friday, June 12 as metrics on the spread of the coronavirus suggest improvements, Gov. Ralph Northam announced at a news conference Tuesday. Schools will be able to reopen in the fall using a phased approach that retains many restrictions.
Most of the state began phase two reopening of businesses on Friday, June 5. Northern Virginia has remained in phase one as the impact of the virus has been more profound.
Starting Friday, restaurants and beverage establishments will be able to offer indoor dining at 50% capacity. Fitness centers can open indoor areas at 30% capacity. Pools can expand operations to indoor and outdoor exercise, diving and swim instruction.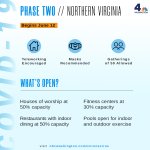 Social gatherings can have a maximum of 50 people, up from 10 people allowed under phase one.
Social distancing, face masks and teleworking are still recommended.
Religious services can occur at 50% capacity. People must be seated at least six feet from each other. Items such as collection plates cannot be passed.
Go here for a sector-by-sector guide on what phase two allows.
Schools will open in the fall, Northam said. Face masks will be recommended, not required, and many restrictions will be in place.
"All Virginia schools will open for students next year but the school experience will look very different," he said.
Schools will have to get state approval to advance through three phases of reopening. Remote learning will continue at first. Most schools will be able to be in phase two now, the governor said.
In phase one, most instruction is virtual but special education can continue. In phase two, preschool through third grade can be done in person. Summer camps can be held in school buildings with restrictions. And in phase three, all grades can go to in-person classes.
In phase three, physical distancing measures must still be in place. There must be six feet between desks. Staggered schedules are suggested. Health screenings are planned. High-risk students and staff will have options for remote learning.
"This approach to reopening our schools protects and prioritizes the health and social, emotional and physical health of students and staff as public health conditions evolve," the governor said.
Fairfax County parent Megan Nassau said she was looking forward to sending her first-grader and second-grader back to school.
"I know that it's not going to be like it was before and I know it's not going to be full-time, but I really do feel that the kids need that face-to-face time with their teachers and their classmates," she said.
State officials also announced a gradual return to youth sports, with restrictions on contact and group size.
The percent of positive COVID-19 tests has trended downward, Northam said Tuesday, with about a 10% positivity rate statewide. There are enough hospital beds and personal protective equipment, testing capacity has increased and more contact tracers have been hired.