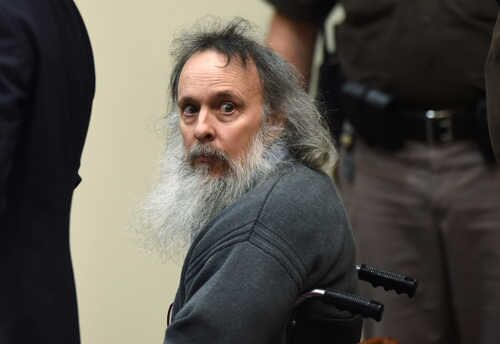 Defense lawyers for Charles Severance, who is accused of killing three Alexandria, Va. residents over a 10-year span, say their client suffers from schizophrenia but they will not make an insanity defense.
Thursday was the deadline for Charles Severance's lawyers to notify prosecutors of an insanity defense before his murder trial in October.
In court papers, the lawyers say they instead want the jury to hear testimony that he suffers from a form of schizophrenia. The lawyers say the testimony would not seek to prove Severance's insanity but would help explain some of his erratic behavior, like seeking asylum at the Russian embassy when police tried to interview him.
Prosecutors oppose the proposed testimony, calling it an "insanity-lite" defense. They say it would allow Severance to bypass certain legal requirements under an insanity claim.
Severance, 54, of Ashburn Va., is charged with three separate slayings in the city of Alexandria over a 10-year span. All three victims were shot in their homes, in broad daylight, in a wealthy, residential neighborhood. They were identified as: Nancy Dunning, wife of then-Sheriff James Dunning, in 2003; transportation planner Ron Kirby in 2013, and music teacher Ruthanne Lodato in 2014.
Severance -- a former Alexandria resident who had a history of strange behavior during fringe candidacies for political office, including lunging with a flagpole at a congressman at a debate -- has frequently objected to any efforts by his court-appointed lawyers to have him undergo mental evaluations. His lawyers report that he has also made strange requests, like demands to wear a kilt and tri-cornered hat in court.
Court records show he has received previous diagnoses of schizophrenia, but a court-ordered evaluation conducted at Central State Hospital found him competent, and concluded only that he suffered a personality disorder and feelings of self-importance.
Prosecutors say Severance was motivated by anger at losing a child custody case in Alexandria and sought revenge at what he perceived as the city's ruling class. They cite his violence-laced writings over the years, including a passage that states, "Introduce murder into a safe and secure neighborhood. It shudders with horror. Do it again and again and again."
Defense lawyers, though, say they want to put on the stand psychologist William Stejskal, who will testify that Severance's writings and asylum request at the Russian embassy "while perhaps not rational to a person not suffering from [schizophrenia], could have an innocent explanation."
Prosecutors, though, say the testimony would be an end run around Virginia's insanity law. The law requires 60-day notice, and if an insanity claim is made, prosecutors are entitled to seek their own mental-health evaluation of the defendant.
Prosecutors wrote that the defense "seeks to assert an 'insanity-lite' defense, by placing the issue of the defendant's mental health before the jury without having to claim legal insanity."
Also on Thursday, defense lawyers said they want permission to tell the jury about evidence pointing to Nancy Dunning's husband, then-Sheriff James Dunning, as a possible culprit in that slaying. Jim Dunning, who is now deceased, was never charged with his wife's death but was never ruled out as a suspect. Defense lawyers want permission to tell the jury about evidence police collected in their investigation establishing the sheriff's motive to kill his wife.
Prosecutors oppose the request.
A judge will hear arguments on the issues at a pretrial hearing Aug. 13.
Copyright AP - Associated Press