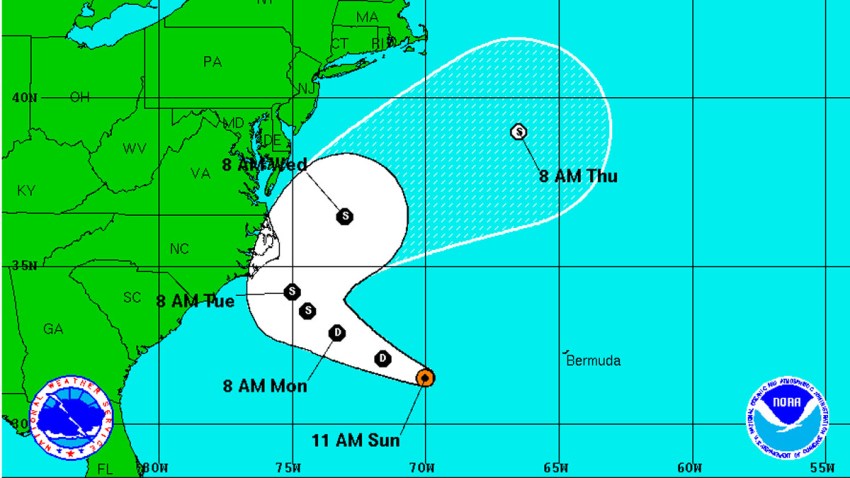 A tropical system has formed off in the Atlantic Sunday and may have North Carolina in its sights.
The National Hurricane Center reported at 5 p.m. the storm had maximum sustained winds of 35 mph and was moving west at 9 mph. It is officially called "Tropical Depression Eight," but the projections have it gaining in strength and becoming a tropical storm sometime on Monday.
The NHC potential track has the storm brushing up against or overwhelming the Outer Banks in North Carolina before turning to the northeast sometime on Tuesday. Part of the potential track has the storm reaching some inland parts of North Carolina.
By Wednesday morning, the storm is expected to be well away from land, in line with the opening of the Chesapeake Bay. Wind projections indicate parts of Virginia and Maryland could get tropical storm force winds sometime on Wednesday.
On Thursday morning, it is expected to steer well clear of any land in the north Atlantic.
Hurricane Gaston also grew in strength, becoming a category 2 with sustained winds of 105 mph. However, it is not expected to come anywhere close to the United States, staying well east of Bermuda before heading off to the northeast.
The NHC is also keeping an eye on a disturbance in between Florida and Cuba. While it isn't in a good spot for formation, the projections have it continuing into the southern Gulf of Mexico, where it could gain strength.