It's the cutting edge of beauty -- and growing in popularity throughout the DMV -- so the News4 I-Team went undercover to see just how safe microblading is in our area.
Our cameras found plenty of artists and salons operating without the required license, and not much the state can do about it.
"I'm a mother of five I don't have time to get up in the morning with the eye pencil and fill in," Christina Hernandez told the News4 I-Team.
And her face is her business.
Thousands watch her makeup tutorials on Facebook. So she likes to try out products and services and share the outcome with her fans.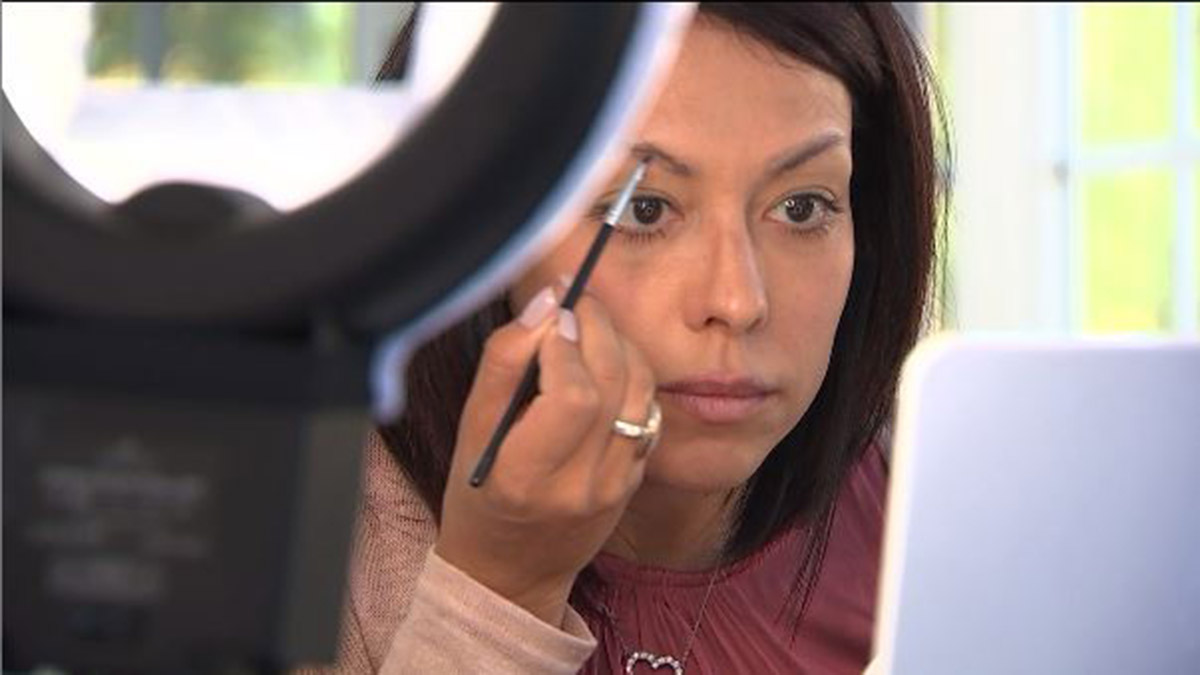 "I wanted to get my eyebrows microbladed," she said. "It's all the rage, it's the fad."
Microblading is a form of permanent cosmetic tattooing. The artist uses a tool with tiny needles to push pigment into the skin in little lines to look like hair.
The final outcome is supposed to be fuller, more natural looking brows that can last for years.
"To me it was as simple as a few strokes and I would be done," Christina said.
But she says that's not what happened when she walked into Veera Spa in Fairfax County in September.
"[It was] extremely painful. I could feel the cuts were really deep," recalls Christina. "I expected some swelling and discomfort, but I looked like someone took a pen to my face and just drew lines wherever they felt like it."
Christina filed a complaint with Virginia's Department of Professional and Occupational Regulation (DPOR), the board that oversees permanent cosmetic tattooing licenses, and was surprised to find there was already an open investigation into Veera Spa.
"I didn't think, 'Let me research her to the depths,'" said Christina. "There's always a disgruntled person. I didn't put great weight on researching reviews for this place."
If she had, she might have seen a negative review written by Ashlea Hardin.
Two days after Ashlea's microblading procedure, her skin was inflamed and swollen, so she went to a doctor, she said.
"He said that it was an infection where the area wasn't properly cleaned," recalled Ashlea, adding that her brows are not the color or shape she wanted.
"Virginia is very much a buyer-beware state," said DPOR Deputy Director Mary Broz Vaughan.
Virginia licenses salons for permanent cosmetic tattooing; currently there are 88 of them statewide. The people doing the procedure also have to be licensed individually. But Vaughan admits that might not mean what you'd think.
"It means you're minimally competent," said Vaughan. "So consumers have some assurance that they're dealing with professionals who are not going to hurt them -- not necessarily that they're dealing with the cream of the crop."
Vaughan said state investigators only respond to complaints. They do not drive around checking for licenses or looking for violations. So the I-Team sent a producer undercover, and she quickly found both.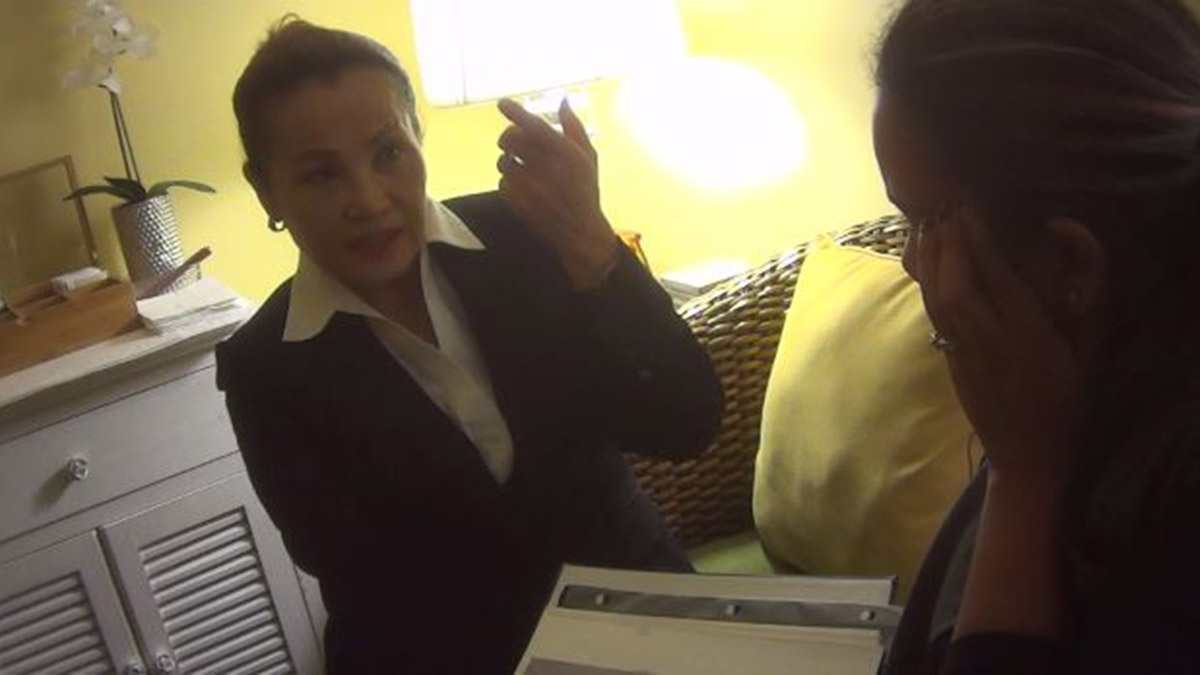 Along Maple Avenue in Vienna, our hidden cameras caught several salons offering microblading services, but state records show none had a permanent cosmetic tattooing license that allows that.
Plus, the state requires microblading be done in a separate, sterile room, not out in the open. At least one salon offered to do the procedure right next to other customers who were receiving other services.
Later, when reached by phone, a few representatives of the unlicensed salons told the I-Team they thought their cosmetology licenses allowed microblading. The state said it does not.
But the I-Team found state investigators have no way to shut those facilities down, because Virginia only has jurisdiction over licensed salons.
"We can only go into licensed facilities unannounced under the law," said Vaughan.
Veera Spa was a licensed facility and its owner La-Or Wood, who goes by the nickname Lynn, also had a license -- at least she did when our undercover producer paid her a visit.
Lynn Wood first explained on camera how microblading works, then told the producer, "You'll like it, most people love it!"
But Paola Soto doesn't think so. She's a state-licensed permanent cosmetic tattooing instructor who told the I-Team at least five women, including Christina, came to her asking to correct their brows after visits to Veera Spa.
"It was like, 'Wow, I can't believe that this person is still working,'" recalled Soto.
In fact, when she first saw Christina's brows, Soto asked her if she'd been to Veera Spa.
"It's giving us a bad name," said Soto. "You can destroy a person's face if you don't have the skill."
Wood has now voluntarily surrendered her permanent cosmetic tattooing license and closed Veera Spa. So the I-Team tracked her down and tried to ask about the state's ongoing investigation.
"Oh she's not home," said the woman who answered the door at Wood's home, who bears a striking resemblance to the woman in the undercover video. When pressed, she continued to deny that she was Wood. The car parked in the driveway of her Washington, D.C. home was the same one parked in front of the Vienna salon the day our producer visited.
Vaughan said the state's investigation against Veera Spa will continue, even though it's now closed, so if there are negative findings that would keep the spa from reopening down the road.
Wood just renewed her aesthetician license through 2019, allowing her to offer facials and skin care services.
"I went in feeling beautiful and I left feeling like a clown," said Christina.
Despite her embarrassment, Christina wants others to learn from her experience, though it's not quite the lesson she planned to give her fans.
"If it's helpful to people, I'm all for it," she said. "But would I do it again? Not without checking a license not without reading all the reviews."
Look up licenses for microblading and other cosmetic services here:
Maryland License Look Up (cosmetics only) NOTE: In Maryland, microblading and other forms of permanent, semi-permanent or long-lasting makeup are all considered to be cosmetic tattooing. Cosmetic tattooing is prohibited in any full-service or limited-practice salon or in regard to any salon-sponsored services. The procedure may only be performed in a tattoo parlor. The state does not license those, but some local jurisdictions do.
Washington, D.C., License Look Up NOTE: Washington, D.C., licenses individuals as body artists, with a particular designation to perform micropigmentation. Only four people have that special designation. The District does not issue separate licenses for salons but does license tattoo parlors.
Reported by Jodie Fleischer, produced by Tolleah Price and Rick Yarborough, and shot and edited by Steve Jones and Jeff Piper.