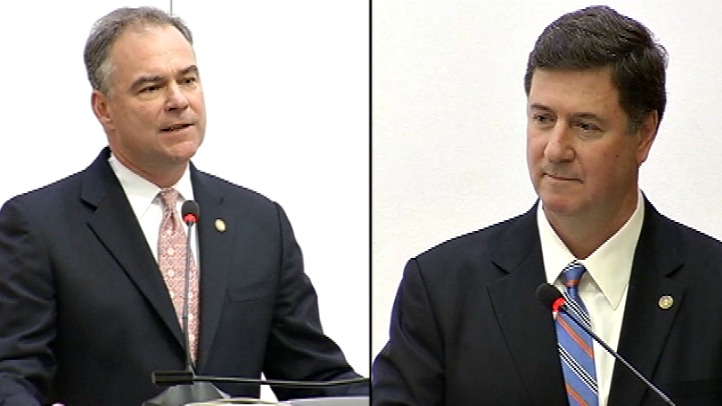 The Fairfax County Chamber of Commerce and NBC4 will host a political debate in September between two candidates for the U.S. Senate seat from Virginia.
The debate between Republican candidate George Allen and Democratic candidate Tim Kaine will focus on the economy and other critical issues facing Northern Virginia. It will be moderated by the host of NBC's Meet the Press and Press Pass, David Gregory. Panelists will include NBC4's Julie Carey and Aaron Gilchrist and the Washington Post's Ben Pershing.
The debate, which will be held at Capital One Bank's headquarters in McLean, Va., will air live on NBC4 from noon- 1 p.m. on September 20 and will be rebroadcast at noon on Sunday, September 23, following Meet the Press' Press Pass program. The debate also will be streamed live on NBCWashington.com.
"For the 23rd year in a row, we're pleased to host Northern Virginia's premier political event," Fairfax Chamber President & CEO Jim Corcoran said in a release. "History has shown us that to fare well in Northern Virginia, a candidate must do well in this debate. We're eager to hear from the candidates in this nationally watched race about their stances on the issues most critical to business."
"It is critical for the people in the Commonwealth of Virginia to hear directly from the candidates in this very important race," Jackie Bradford, President and General Manager of NBC4, said in a statement. "We are very pleased to partner with the Fairfax Chamber to provide the forum on NBC4 so that the important issues affecting so many can be discussed and debated."
The Fairfax Chamber has hosted an annual political debate every year since 1989 for local, state and federal races of paramount importance to the business community in Northern Virginia.