A company wants to build a natural gas pipeline under the Potomac River and the Chesapeake and Ohio Canal, and some residents and environmental groups fear it could have a negative impact.
The pipeline would be built by the company under the C&O Canal in Hancock, Maryland, near the borders with Pennsylvania and West Virginia. Run by TransCanada, the pipeline would transport natural gas from Pennsylvania to West Virginia.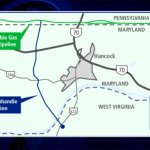 Environmentalists warn that if the pipeline were approved and something went wrong, it could affect drinking water for everyone in the Washington, D.C. area who gets their drinking water from the Potomac.
Activists crowded a TransCanada open house Thursday night in Hancock, blocking access to displays about the company's proposed pipeline.
Russell Mokhiber of Berkeley Springs, West Virginia, told the peaceful protesters they can defeat the Eastern Panhandle Expansion Project by making their concerns about potential leaks known to the Federal Energy Regulatory Commission once TransCanada files its application in March.
"We're going to defeat this pipeline and move on to a better world with solar energy," Mokhiber said after leading scores of demonstrators in singing, "Down to the River to Pray," in the community room of the Hancock Town Hall.
TransCanada spokesman Scott Castleman said it was unfortunate that people curious about the project had difficulty reaching company executives stationed at seven tables around the room. He said the pipeline, 72 feet below the river bed, would support growth in the region by increasing a gas supply that is nearing capacity due partly to a Procter & Gamble manufacturing plant under construction near Tabler Station, West Virginia.
"We're looking to have conversations with people in the community who want questions answered by our experts," Castleman said.
Jimmy Barnhart, the owner of C&O Bicycle in Hancock, said he worried the pipeline construction would cut into his business.
Castleman said the company would work to make the construction and operation as "minimally invasive as possible."
"We're going to drill sideways under the river, so it's going to eliminate the impacts to people who use the river on a daily basis for recreational purposes," he said.
He said the company has countless safety measures in place.
"There's a lot of safety measures that go in before we even install this line," he said. "We're putting in thicker pipe than we're required to. We do a lot of surveys to make sure we're putting this in the right way, and then we're monitoring it 24 hours a day, 365 days a year."
The project would need federal approval to proceed.
"We're prepared to protest. We're prepared to legally challenge every step of the way," said Brent Walls of the Potomac Riverkeeper Network.
Copyright AP - Associated Press