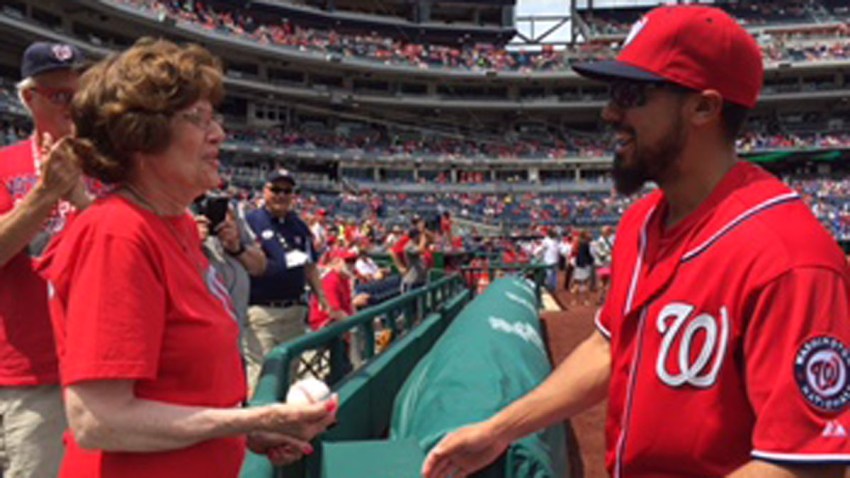 Bryce Harper wasn't the only Washington Nationals player to make a fan's day this week. Another player took the extra step to meet with a fan who was wowed to meet her favorite Nationals member.
Harper took a selfie on the field with a fan's cellphone before Tuesday night's game. Before Saturday's game, it was Barbara Lynch's turn get close and personal with a Nationals player.
Lynch, 78, has been an Anthony Rendon fan since his 2013 rookie season.
"I fell in love with him when he was first here. I've called him my kid for years," said Lynch.

But she had to be content with watching her favorite player on television. Her husband, Jim Lynch, was in poor health and unable to attend games.
The couple viewed nearly every Nats game together at their Rockville home. When Jim Lynch passed away 2 1/2 months ago, Barbara's children decided it was time to get her to the ballpark.
They also hoped she could meet Rendon. Son Steve Lynch and daughter Betsy Lynch Lanning arrived at the ballpark Saturday with their mom and began to tell their story about Barbara's dream of meeting Rendon.
They somehow made their way into the first row of seats next to the Nats dugout. An usher and a season ticket holder stepped in and helped get Rendon's attention.
Shortly after the player introductions, Rendon walked straight to the stands where Barbara Lynch was waiting. She told him she'd watched him every game.
"He said, 'Thank you very much.' It was very sweet of him to come over," she said.
She got her baseball signed and had a chance to wish Rendon a happy birthday. The Nationals infielder turned 25 on Saturday.
The Nationals didn't get the win against the Chicago Cubs for Barbara, but her son said that didn't darken the day.
"Once she met Anthony and got that ball signed, she didn't even care about the game," said Steve Lynch.