The man accused in the brutal murder of three members of a Washington, D.C., family and their housekeeper was seen in Brooklyn Thursday morning and may already be back in Maryland.
Daron Dylon Wint, 34, is wanted for first-degree felony murder while armed.
Authorities searched several locations in Maryland for him Wednesday night and Thursday. Law enforcement sources said Thursday afternoon they believe Wint took a bus to New York City and arrived in Brooklyn sometime in the previous 24 hours. He also may be back in Maryland by now, they said.
Wint's girlfriend, a Brooklyn resident, talked to New York Police Department officers at the 69th Precinct in Brooklyn for hours Thursday after being picked up at her apartment. She is not under arrest, NBC New York reports.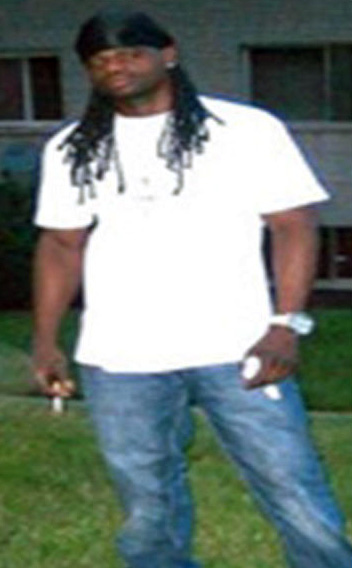 Police believe victims Savvas Savopoulos, 46; his wife, Amy Savopoulos, 47; their son, Philip; and housekeeper Veralicia "Vera" Figueroa, 57, were killed May 14, hours after someone delivered $40,000 in cash to the multimillion-dollar house.
Police publicly identified Wint as their suspect Wednesday night. Sources say DNA on a piece of Domino's pizza that was delivered the night of May 13 led investigators to Wint. The crust was analyzed at a Bureau of Alcohol, Tobacco, Firearms and Explosives lab.
From 2003 to 2005, Wint worked as a welder at American Iron Works, where victim Savvas Savopoulos served as CEO, sources said. He also had a relative who was fired from the company.
An American Iron Works welder who said he lost a great friend in Savopoulos told News4 Wint couldn't get along with anybody when he worked there.
The family was likely kept bound and threatened overnight on the night of May 13, sources close to the investigation tell News4.
The cash was withdrawn from an account at American Iron Works, the sources said.
Sometime after the cash arrived the following day, the home was set on fire, leading to the discovery of the bodies.
Attorney Robin Ficker, who has represented Wint in the past, told News4 he doesn't believe Wint did it.
[[304439421, C]]
"He is a gentle guy. He was a student at Prince George's Community College. He wouldn't hurt a fly," Ficker said. "He's the kind of guy that you wouldn't mind your grandmother going to lunch with."
The case seems almost unimaginable in its brutality -- and in its location. It happened in the 3200 block of Woodland Drive NW in Woodley Park, a neighborhood of security systems and landscaped lawns just blocks from the vice president's home and near the National Cathedral.
Three of the victims had been beaten and stabbed to death, and some of the bodies smelled of gasoline, police said.
Philip's body was so badly burned that investigators aren't sure if he was injured before the fire was set, and he still hasn't been officially identified, sources close to the investigation said.
Philip's body was found in his room; three other bodies were found on the floor in another bedroom.
The family Porsche was found burning in a church parking lot in suburban Maryland. Police had circulated the grainy image of a person leaving the scene of the car fire, wearing black clothing.
Wint has a court record that includes charges of assault, carrying concealed weapons and theft. In a 2010 case, he was arrested after a Prince George's County Police officer found Wint with an open beer and a bookbag carrying a two-foot-long machete and a black BB gun near the trash bins at a Shell gas station.
At least one police record lists a home address that is less than a half-mile from where the Porsche was found burning.
Wint also had four previous arrests from Oswego, New York, including assault, harassment and violating an order of protection, a source familiar with the investigation told NBC New York.
Message From the Housekeeper
Savopoulos was the CEO of American Iron Works, which helped build major D.C. construction projects, including the Verizon Center and CityCenterDC. Savopoulos and his wife, Amy, were well known in the neighborhood, often hosting parties for neighbors and friends, according to The Washington Post; the family attended St. Sophia Greek Orthodox Cathedral in the neighborhood.
Philip was a fourth-grader at St. Albans, the private school near St. Sophia and the National Cathedral; two daughters were away at private boarding schools.
Neighbors who have been in the home said the family had an extensive and valuable art collection, which was on display a couple of years ago during the Christmas house tour put on by St. Albans.
The timeline of events that investigators are working from seems to match information from a longtime housekeeper for the Savopoulos family, who said she was a good friend of Veralicia Figueroa.
Nelly, who didn't want her full name used for security reasons, owns her own cleaning company and worked for the family for more than two decades. Nelly allowed Figueroa to work with her at the Savopoulos family's home.
On May 13, Figueroa texted Nelly to say she wanted to work at the home, and planned to finish by 3 p.m., Nelly told News4.
That evening, Nelly missed a call from Savvas Savopoulos, saying Figueroa was spending the night at the family's home. She heard the call on voice mail the next morning.
An Eerie Encounter
Nelly said Figueroa's husband went to the home the morning of May 14 to look for her and had an eerie encounter. No one answered the door when he knocked on it, but he told Nelly he had the feeling someone was standing just inside the closed door.
He went around the back of the house to knock again. As he did, Nelly said, Savopoulos called his cell phone. Savopoulos said Figueroa was OK and had spent the night, according to Nelly.
The fire at the home was reported about four hours later.
Nelly said Figueroa was hard-working and loved life. She'd come to the United States from El Salvador to earn money before planning to retire next year.
A GoFundMe page has been created to help with her funeral costs.
Throughout the week, federal agents and D.C. police have continued to gather evidence at the Woodley Park home. Meanwhile, in New Carrollton, authorities used a bloodhound to try to track down the person who torched a 2008 blue Porsche 911 stolen from the home on the day of the fire.
The Porsche was found burning in the parking lot of St. Christopher's Episcopal Church. At a banquet hall nearby, surveillance video of a person of interest in the case was captured on a security camera.
Police say Wint is the person of interest seen in the video. While he is difficult to see, police say Wint was dressed in dark clothing, including a hoodie with the hood pulled up.
Meanwhile, neighbors and friends are mourning the family -- and left dreading the idea of what they endured in the hours they may have been held captive in their own home.
"This was a beautiful family, a wonderful family with children," said Coco Palomeque, a friend of Amy's. She described Amy as "beautiful, vibrant, full of life and full of energy -- ready to jump into any project to help others, to help her community."
"The community where they lived really loves them, and we are here to support them if they need us," she said.
Staff members Pat Collins, Meagan Fitzgerald, Mark Segraves, Jackie Bensen and Shomari Stone are among those who contributed to this report.