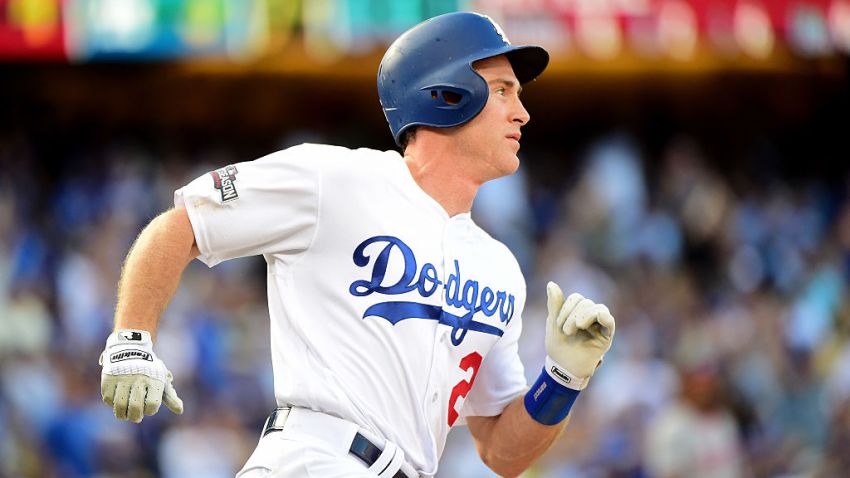 Chase Utley singled home the tiebreaking run with two outs in the eighth inning after the Dodgers' bullpen faltered in relief of Clayton Kershaw, and Los Angeles avoided elimination Tuesday with a 6-5 victory over the Washington Nationals that forced a deciding Game 5 in their NL playoff.
Kenley Jansen worked the ninth for a save, one day after giving up four late runs during Los Angeles' loss in Game 3.
Game 5 is Thursday in Washington, with 20-game winner Max Scherzer set to pitch for the Nationals.
Dodgers manager Dave Roberts said he will use left-hander Rich Hill and rookie Julio Urias, but did not announce which one will start.
After failing to close out the Dodgers on the road, Washington will get one more chance Thursday to win a playoff series for the first time since the franchise relocated from Montreal. NL East champions in three of the past five years, the Nationals were unable to advance during their two previous trips to the postseason.
Adrian Gonzalez hit a two-run homer for the Dodgers, who turned to Kershaw on three days' rest to salvage their season.
The score was tied 5-all with two outs in the eighth when Andrew Toles got hit by a pitch from loser Blake Treinen. Pinch-hitter Andre Ethier followed with a single to left and Utley singled to right, scoring Toles from second for a 6-5 lead.
Trailing 5-2 in the seventh, the Nats had runners on first and second against Kershaw with two outs. The crowd chanted Kershaw's name before Bryce Harper drew an eight-pitch walk to load the bases and chase Kershaw, who walked off with his head down. He sat alone in the dugout with his head resting on his right hand.
That's when the bullpen nearly gave the game away.
Pedro Baez came in and hit Jayson Werth with his only pitch, forcing in a run to make it 5-3. Baez got booed off the field.
Daniel Murphy's single off Luis Avilan dropped between Toles and Joc Pederson in left-center field, scoring two runs to tie it at 5. Avilan also heard boos.
Joe Blanton, who earned the win, retired Anthony Rendon on a swinging strikeout to end the inning.
Desperate to avoid another early playoff exit, the Dodgers turned to Kershaw, their three-time NL Cy Young Award winner who won Game 1 last Friday despite going just five innings and allowing three runs.
This time, he was charged with five runs and seven hits in 6 2/3 innings. He struck out 11, equaling his second-best postseason total, and walked two.
The left-hander was limited to 149 innings while compiling a 1.69 ERA during the regular season. He missed 2 1/2 months with a mildly herniated disk in his back.
Kershaw opened the game by giving up a leadoff single and a walk before Murphy's RBI single.
The Dodgers took a 2-1 lead in the bottom of the inning on Gonzalez's two-run shot that scored Justin Turner, who was hit by a pitch from Joe Ross.
Werth's RBI single tied it 2-all in the third.
Los Angeles again answered in the bottom of the inning, with Kershaw getting the rally going with a double to left field. He slid into second and clenched his fists in a rare show of emotion.
Kershaw scored on Turner's single with two outs. Pederson got hit by a pitch from Ross with the bases loaded, forcing in Turner
Ross made his postseason debut for the Nationals, giving up four runs and three hits in 2 2/3 innings. The 23-year-old right-hander struck out three and walked two. He hasn't pitched more than four innings since coming off the disabled list on Sept. 18.
TRAINER'S ROOM
Nationals RHP Stephen Strasburg experienced discomfort in his right elbow during a bullpen session Monday at Dodger Stadium. He threw 30 or 31 pitches instead of the scheduled 35. Strasburg has been out since tearing the pronator tendon in his elbow on Sept. 7.
Manager Dusty Baker said Strasburg was throwing the ball ``very good'' and he's not concerned about his progress. Strasburg has said he would try to return this season if the Nationals advance to the NLCS.
SHORT REST
Kershaw started on three days' rest for the fourth consecutive postseason. He previously did so in Game 4s of the Division Series last year against the Mets, in 2014 against the Cardinals and in 2013 against the Braves.
CAN'T CLOSE `EM OUT
Baker has lost eight consecutive postseason games in which his team would have advanced with a victory. That's the longest such streak in major league history, according to ESPN Stats & Info.
EMPTY SEATS
There were pockets of empty seats in every section of the ballpark, some in full view of the television cameras. The ends of the upper deck weren't full, the outfield sections had seats available and there were empty seats on the field and loge levels. The announced attendance was 49,617. Contributing factors could have been the rare daytime starts for both games in Los Angeles.
ELIMINATION GAMES
The Dodgers improved to 12-15 in postseason elimination games since moving to Los Angeles.
** SCORING PLAYS **
1st inning: Trea Turner scores on a single by Daniel Murphy.
1st inning: Adrian Gonzalez hits a two-run home run.
DODGERS 2, NATIONALS 1
3rd inning: Trea Turner scores from 3rd on a Daniel Murphy fly ball to tie to the game.
3rd inning: Clayton Kershaw scores on single by Justin Turner
3rd inning: Justin Turner scores after Joc Pederson was hit by pitch.
DODGERS 4, NATIONALS 2
5th inning: Josh Reddick scores on double by Joc Pederson
DODGERS 5, NATIONALS 2
7th inning: Danny Espinosa scores after Jayson Werth gets hit by a pitch with the bases loaded.
7th inning: Daniel Murphy singles, scoring Trea Turner and Bryce Harper.
NATIONALS 5, DODGERS 5
8th inning: Andrew Toles scores on a Chase Utley single.
DODGERS 6, NATIONALS 5
Copyright AP - Associated Press