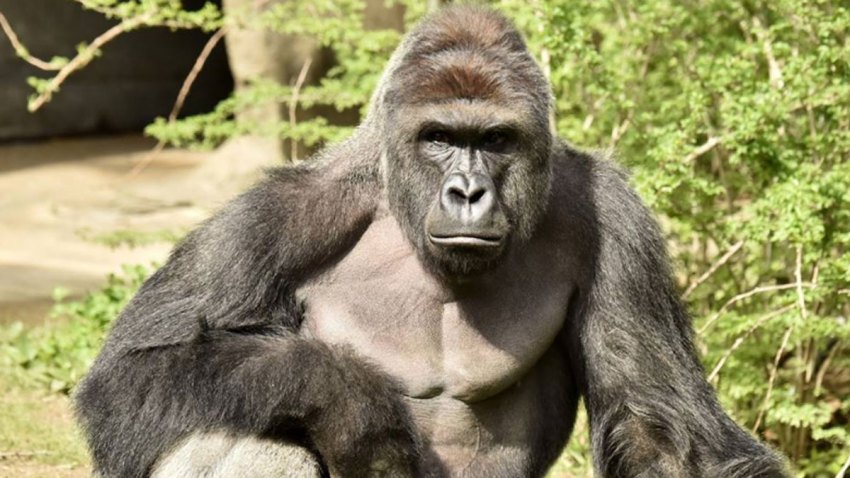 Dramatic video was released of the 400 pound gorilla dragging a 4-year-old boy through the water at the Cincinnati Zoo. It ended with zoo officials killing Harambe, a 17-year-old silverback gorilla.
As thousands took advantage of the good weather to visit the National Zoo in Washington, many of them were talking about the incident. The gorillas at the National Zoo are kept behind a glass wall, seemingly impossible for any visitors to somehow get inside.
But the lions' den is similar to the pen where the gorillas are kept in Cincinnati, in a fenced in location surrounded by a moat. Last year, a man did climb over the fence trying to get into that lions' den but was stopped by security before the animals could react to the intruder.
The talk, though, was about the situation in Cincinnati with most reluctant to blame the mother or the zoo for what happened, but one father said he would have taken action himself.
"There must have been a better way, but I guess there wasn't," said Sheldon Elliott, of Sprinfield, Massachusetts. "I have to trust they knew what they were doing, and the kid's alive, so thank God. I would have jumped in there. I would have got a stick something and tried. Let it crush me. Hopefully, I could push my kid out."
After seeing the video of the gorilla with the child in the water, Chandi Peyton, of Woodbridge, Virginia, wonder what the parents were doing for the incident to happen.
"Where was (the mother) when this happened," said Peyton. "That's what it comes down to. That's dangerous."
As for the decision to kill the gorilla, people were also torn, hoping there could have been a different outcome but unwilling to blame authorities for the actions they took at that moment.
The Cincinnati Zoo is accredited by the Associations of Zoos and Aquariums. Members are required to conduct four safety drills per year, as well as have an emergency response plan in place for dangerous animals. That preparation is what was seen in Cincinnati, where the zoo professionals were able to resolve the situation very quickly. They have a top-notch staff, and it showed during an unfortunate incident.
There's also the question of how the child was able to get into the gorilla pen. At the Cincinnati Zoo, the small boy was apparently able to climb through the fence and then fell into the moat.
"That's unacceptable, too," Elliott said. "They should have had some kind of forethought to something like that happening, because kids do things like that."
The family for the young boy said he's home now and doing fine.