Someone set fire to a gas can outside of the National Archives, home to the nation's most treasured documents, including the Constitution and the Declaration of Independence.
Surveillance video shows someone going to a corner of the building holding a dark object about 7:50 p.m. Thursday, police said.
As the person left the location, the glow from the fire can be seen in the corner.
Another video shows a person running away from the building in a crosswalk.
National Archives security tried to put out the fire but it was too hot. D.C. Fire and EMS responded and extinguished the fire by about 8 p.m.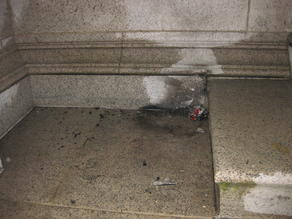 "Somebody could have really gotten hurt," National Archives Security Director Dave Adams said. "The building could have gotten significant damage if the fire wasn't put out so quickly. We also have very important documents in the building, so obviously a fire is detrimental to that."
Damage to marble outside the building is being cleaned Friday.
National Archives officials told News4 federal agents are searching for the person and released surveillance video in hopes it will help the search.
The National Archives is the nation's record keeper, holding the documents deemed important enough for legal or historical reasons to be kept forever.