A longtime financial analyst at NASA's Goddard Space Flight Center in Maryland admitted running a high-end counterfeiting operation.
Arthur Chan, 31, is suspected of making the illegal sales while at his work computer, federal investigators said.
[[238427591, C]]
He pleaded guilty to a federal counterfeiting charge. A judge sentenced him to nine months home confinement Tuesday afternoon.
According to court filings by a federal agent, Chan used eBay to sell thousands of dollars of knock-off versions of high-end products, including imitation Hugo Boss, Gucci, Prada and Fred Perry. Chan earned at least $37,246 through his sale of counterfeit Hugo boss apparel and accessories alone, court filings said.
The judge ordered Chan forfeit $37,246 as part of his guilty plea.
One of Chan's customers suspected his items were counterfeit and alerted agents with the U.S. Department of Homeland Security, federal investigators said. According to the filings, "The (Homeland Security) agent purchased three additional shirts from Chan in an undercover capacity and sent those shirts to Hugo Boss's headquarters in Metzingen, Germany, for analysis. Upon reviewing those shirts, Hugo Boss confirmed they were fakes."
Local
Washington, D.C., Maryland and Virginia local news, events and information
According to the filings from federal agents, internal investigators at NASA found 5,000 hits for the website eBay.com in late 2014 from Chan's NASA-issued IP address.
According to court filings by federal agents, "Because Chan was considered to be in a position of trust in his role as a NASA financial analyst, he had to complete a yearly Confidential Financial Disclosure Report. Each report that Chan completed required him to list 'all sources of salary, fees, commissions, and other earned income greater than $200.' A review of Chan's Financial Disclosure Reports from 2010 to 2014 revealed that he never disclosed his eBay business to NASA."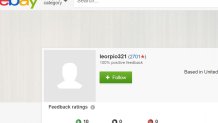 Chan, who is listed as a graduate of Gallaudet University in D.C., imported the counterfeit goods through India and maintained a post office box at a UPS store in Greenbelt, Maryland, federal agents said. He had been warned against counterfeiting years earlier, after an investigation by U.S. Customs and Border Protection, federal agents said.
Chan's attorney did not immediately respond to requests for comment.