A 15-year-old boy was killed and three people, including a D.C. police officer, were shot and wounded near 14th and U streets NW on Sunday, authorities said.
Chase Poole was the shooting victim, his family told News4 on Monday morning. We're working to learn more about who he was and the tragedy that took his life.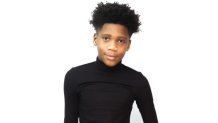 The search for the shooter or shooters continued Monday.
We're making it easier for you to find stories that matter with our new newsletter — The 4Front. Sign up here and get news that is important for you to your inbox.
The shooting began after two separate incidents following what D.C. Chief of Police Robert Contee called an "unpermitted event" held by the group Moechella at about 6 p.m. They had promoted a Juneteenth event celebrating D.C. go-go music. Several hundred people gathered.
At one point, there was some type of "incident or fight" among the crowd that was broken up, authorities said. Then, after a "secondary incident," people started to flee, and some had their legs and ankles "trampled." The incidents happened over about two hours, Contee said.
"We attempted to facilitate an event, in this case where people showed up as a result of a social media posting," Contee said. "This was an unpermitted event. There were over a hundred police officers that were there, Fire and EMS workers that were there on the scene, and someone introduced a firearm onto the situation. So, whether it was a permitted event or unpermitted event, that doesn't really matter at this point. What I'm really focused on right now is finding the person who took the life of this 15-year-old, who shot two other people and injured one of my officers, shot one of my officers on the scene at 14th and U street."
Local
Washington, D.C., Maryland and Virginia local news, events and information
Cellphone video taken from above the scene shows members of the crowd running west along U Street. After about 10 seconds, the rush slowed and officials in yellow vests were seen standing in the intersection.
While officers shut down the event and paramedics treated victims who suffered injuries while running away, the gunfire that would claim the life of a teen and injure three others erupted.
The two adults and the officer, who was shot in the lower extremities, are recovering at a hospital, Contee said.
Police recovered several firearms throughout the night. One belonged to a victim, but officers did not find the suspect's gun.
No officers fired their weapons, Contee said.
The victims who survived are stable, but the extent of their injuries was not known. A potential motive for the gunfire or either of the incidents before it was not revealed.
A police helicopter hovered above the area at about 11 p.m. as officers searched for a shooter or shooters.
"We have a child who was killed today at an event that did not have any proper planning for the number of people who were here and with guns involved. And with our police managing a crowd, on site, somebody used a gun. And a child is dead," D.C. Mayor Muriel Bowser said.
"It was tragic," witness Jay Brown said. "It was very scary. It was unfortunate."
He said he pushed his daughters into bushes to keep them out of harm's way.
"Took my daughters, slammed them in the bushes, got on top of them," he said. "It appears that the victim ran right past us … It was very scary, because we didn't know what was going on. I was scared to lift my head up. I was scared to let my daughters up."
Contee said the police department would look into whether "legal action" should be taken against the organizers of the unpermitted event.
Yaddiya, a Moechella organizer, shared a statement signed by the Long Live GoGo team, reading in part: "As we continue to cultivate a platform to uplift the culture of Washington [D.C.], we don't condone violence of any sort."
"Moechella is a symbol of [B]lack culture in [D.C.] and is built on a foundation of peace. Please keep this in mind moving forward as occurrences of such will not be tolerated and will result in us being stripped of the opportunity to activate our platform," the statement continued.
Sabel Harris, an Advisory Neighborhood Commissioner representing an area near 14th and U Streets, who is running for D.C. Council, said that many officers were on the scene and a permit would not have prevented the violence.
"My thoughts are with the victims and families who were injured and killed tonight. One instance of violence is one too many, and we must create solutions that get to the root of the systemic issues that are allowed to perpetuate when we continue prioritizing and funding sources that are reactionary at best," she said.
The 14th and U intersection touches Wards 1 and 2. Current council members Brooke Pinto and Brianne Nadeau did not immediately respond to inquiries.
The original "Moechella" events in spring 2019 sprung out of a movement to celebrate go-go music and protest gentrification in the 14th and U area.
Chase Poole's family said he attended Monument Academy, a weekday boarding school in Northeast D.C.
DC Candidates Weigh In Ahead of Elections
The fatal shots were fired near an area that has seen a rise in violent crime recently. On Monday night, with just hours until election day, the democratic candidates for the Ward 1 council seat representing the area weighed in. 
There have been nearly 10 shootings in the area over the last few months, and public safety has become an important part of the contentious race.
"Bottom line is we've got to get these guns out of the District of Columbia or we're going to continue to see this violence," Brianne Nadeau, incumbent councilmember for Ward 1, said. 
She told News4 she was at the intersection before and after the shooting, adding that city leaders need to focus on getting guns off the street through legislation like the red flag law.
"The issue last night was the presence of illegal handguns, right? Illegal weapons that should not have been present in our community. And I don't know a single person in government that disagrees with that," Nadeau said. 
Advisory Neighborhood Commissioner Sabel Harris, who is running for the Ward 1 seat, said the shooting shows the need for more resources, like mental health services.
"I don't think more police is the solution here. I think our violence interruption programs are critical and key, but in these personal disputes, we have to look at the systemic causes," she said. "You know, we need comprehensive health care, we need to make sure people have job placement."
And in a statement, former police officer and Ward 1 candidate Salah Czapary said, "It is time we get serious about prosecuting those who put us all at risk through the use of illegal firearms… I will work to ensure MPD has the investigatory capacity to build strong cases against the most violent offenders."
Stay with NBC Washington for more details on this developing story.