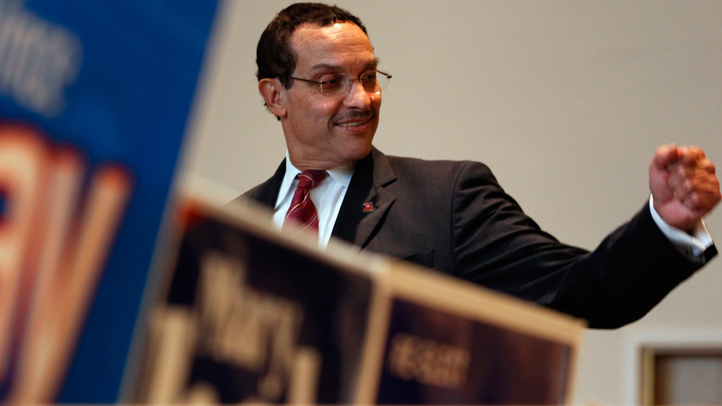 D.C. politicians never tried to hide that they felt snubbed by their fellow Democrats when the party refused to put the cause of D.C. statehood on its official platform. Mayor Vince Gray and his colleagues pushed for the inclusion of statehood and a speaking spot for Rep. Eleanor Holmes Norton, to no avail.
But the apparent diss didn't stop the D.C. team from doing everything it could at the convention Tuesday to make its case heard. (Oh, yes, there are billboards involved)
In the usual pomp and circumstance roll call when each state casts its votes to nominate the president, Gray used his time to plea for statehood (He used more time than just about any state)
"Our great nation was founded upon the fundamental principal of resistance to taxation without representation.," he said. "Yet we continue to endure that in the District of Columbia. So we ask you, please America, as we work to reelect President Obama, work with us to bring justice and equality to the District of Columbia"
(To see his whole speech go to around the 14:40 mark of this video. Note that chair of the D.C. Democratic Party Anita Bonds introduced Gray as "our mayor-governor.")
D.C. residents also felt shafted by their nosebleed seats at the convention. Harry Jaffe of the Washingtonian wrote that it "seems the representatives of the District aren't exactly being given preferred seating in Charlotte this week."
But Mike DeBonis tried to set the fact straight in a tweet that reminded people that D.C. had it just as bad in the '08 convention in Denver. "Before y'all read too much into D.C. Dems' bad convention seats, the seats in Denver were just as bad."
Mayor for Life Marion Barry didn't hide his feeling on twitter, tweeting dozens of messages in support of D.C. statehood.
"Let's be honest: Does DC have to be "gentrified" to get voting rights? Is that what we are wating for? Democracy has no color, right?"
This tweet got the support of Post columnist Robert McCartney who wrote that racial political calculation lurks behind Democrats'' disrespect for D.C.
Barry (Ward 8) has often engaged in racial demagoguery, but this time, he has a point. Some other senior Democrats from the District, white and black, said privately that they believed that political calculations about race were largely behind the organizers' moves to squash advocacy of D.C. statehood or voting rights at the convention.
Here are some other story on D.C. statehood at the convention by DeBonis, Buzzfeed and The Washington Informer
IN OTHER NEWS:
* Maryland Sen. Barbara A. Mikulski—the longest-serving woman in Congress—urged support of female candidates in an address Tuesday at the DNC.
* Virginia Senate candidate Tim Kaine's speech at the DNC Tuesday did him some good.
* Tourism spending generated $20.4 billion in revenue for Virginia's economy in 2011, up 8 percent from the year before.
* Ann Romney will be in Loudoun County Friday morning for a "Women for Mitt" rally.
* New York is giving Uber a hard time now too
* A grass triangle west of Union Station will soon become a plaza and Ukrainian memorial