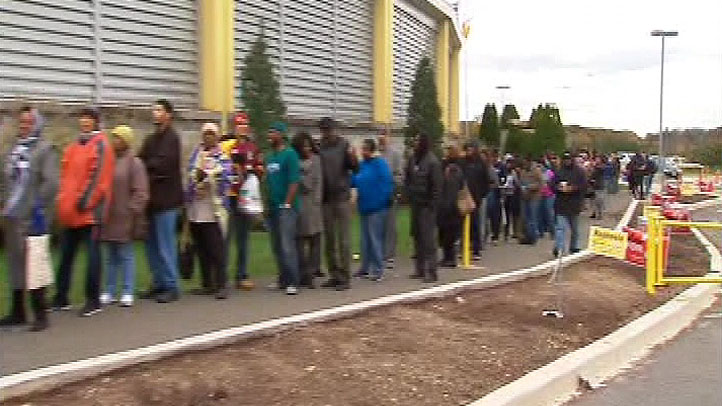 Virginia is one of about 15 states that does not offer true early voting -- while residents can vote absentee by mail or in person, they are required to give an excuse in order to do so.
But the long lines that plagued voters on Election Day—particularly in Fairfax County—may be enough fodder to give the push for early voting in the state political capital.
Democratic State Senator Janet Howell of Reston prefiled legislation on the Thursday before the election that would eliminate all restrictions on absentee voting in Virginia. Currently, Virginians can only vote absentee if they qualify for approved excuses. Most states do not have these excuse requirements.
According to the Washington Examiner, Howell has repeatedly tried to pass legislation to loosen the state's early voting restrictions without success. She told the Examiner that the long lines may have given her cause new momentum
"A lot of voters are very angry because they had to wait in such long lines," Howell said. "I'm hopeful that anger will help get it passed. This shouldn't be a partisan issue. It should be about making it easy for people to vote."
However, Howell will almost certainly face GOP opposition. During the last legislative session, Virginia lawmakers passed a new voter ID law that required voters who did not bring some form of ID to sign a provisional ballot. Previously, voters without ID could sign an affidavit swearing they were who they said and vote normally. The law would have been stricter had Democrats not blocked a tougher measure.
We'll find out the fate of Howell's legislation soon enough. The Virginia legislative session kicks off Jan. 9.
IN OTHER NEWS
* George Allen talks to the Virginian-Pilot and says he doesn't plan to run for office again

* A week after defeat, Michael Brown considers running for at-large council seat in next year's special election

* Is Marion Barry suppressing the right to free turkey?
* Kwame Brown could get longer than expected sentence

*Budget woes force Virginia State Police to scale back on aerial speed enforcement program
* WWI memorial will remain D.C.'s own
* Fourteen miles of four high occupancy toll lanes will open this weekend on the Virginia side of the Capital Beltway

* Patrick Ewing may be looking to enter construction contracts with D.C. government

* Cuccinelli blocks innocent man's release

* Jewish deli opening in DuPont
* Norton wants D.C. flag to be displayed with other state flags
* Streetcar backers ask NoVa officials to cooperate on transit