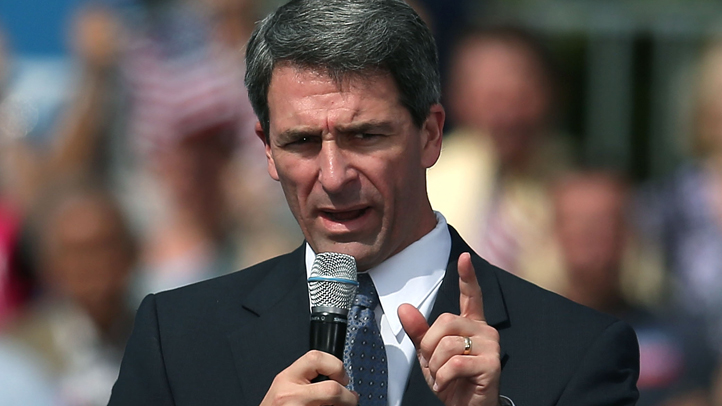 On Wednesday, Virginia Attorney General and Republican gubernatorial candidate Ken Cuccinelli was everywhere on the internet over reports that he filed a petition that challenged the state's anti-sodomy law. (Slate's Dave Weigel even wrote a post Thursday commenting on the virality of Cuccinelli.)
Cuccinelli—an outspoken opponent of same-sex marriages—insisted that his position had nothing to do with sexual orientation, but rather was intended to prosecute sexual offenders. After all, the case that he filed the petition for involved a 47 year old man soliciting oral sex from 17 year-old girls.
But Talking Points Memo reports that the Republican gubernatorial candidate spoke out in 2009 about why sodomy should be illegal and his defense had everything to do with sexual orientation.
In the 2009 speech, Cuccinelli said that U.S. statutes should reflect "natural laws" and should not recognize sodomy.

VIA TPM:
"I got savaged by the Washington Post late in the — I know that's a shock to everybody here — late in the race for my natural law explanation, or the natural law portion of my explanation, about why homosexual acts are wrong and should not be accommodated in government policy. And they went berserk over that," Cuccinelli said at a conservative women's event sponsored by the Heritage Foundation and Clare Boothe Luce Policy Institute, a conservative women's group, shortly after being elected attorney general.
IN OTHER NEWS:
* Arlington County and WMATA are teaming up to review how the bus stops on Columbia Pike came to cost $1 million. (Washington Post)
* Fairfax County froze its housing voucher program because of the sequester, impacting nearly 200 families. (News4)
* A roundup of the Virginia Assembly's last day in session. (Virginian-Pilot)
* Maryland lawmakers officially passed the strict gun-control legislation Thursday, sending it to Governor O'Malley for final approval. (News4)
* Virginia will rebuild the Chesapeake Bay oyster population $2 million--its biggest ever replenishment program. (Washington Examiner)
* One of the proposals for the FBI's new headquarters would keep the building in the District, moving it to a location close to Union Station. (Washingtonian)
* But Housing Complex says we'd regret putting it there. (It should be noted that the Mayor's office says the city is sticking with its choice of Poplar Point as the best District location for the new headquarters.) (Washington City Paper)
* Mayor Vincent Gray told mayoral candidate Muriel Bowser to "bring it on" during a television interview. Does this mean he's seeking reelection? (Washington City Paper)
* After initially saying there was no conflict of interest, Cuccinelli is expected to announce Friday that he will seek outside counsel to handle a tax lawsuit brought against the state by a company he owns more than $10,000 in stock in. (Washington Post)
* Gov. McDonnell announced the launch of a public-private partnership with Semper Secure to expand Virginia's cyber security industry and expertise. (Associated Press)
* The plans for memorializing Chuck Brown by renovating a Northeast park are in limbo after neighbors have made it clear they don't want any more action or noise in the area. (Washington Post)