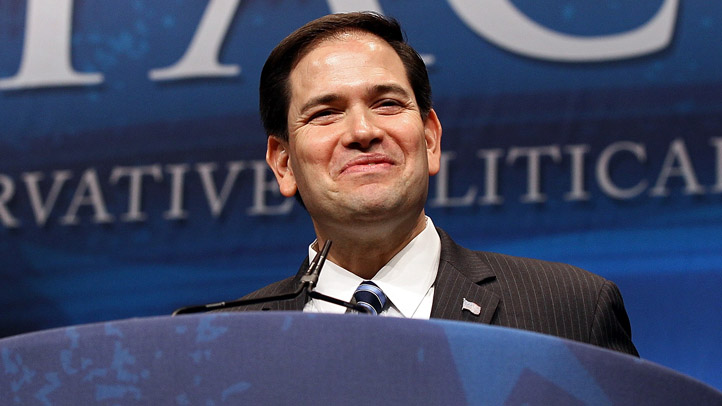 Senator Marco Rubio will appear alongside Senate hopeful George Allen at a campaign event at 9 a.m today at The Company Flower Shop--a family-owned business in Arlington.
Marco Rubio, a Hispanic Republican from Florida, is a rising star in the Republican Party and a top vice-presidential potential for Mitt Romney.
According to a press release from the Allen campaign, Rubio will highlight his commitment to supporting and campaigning for the former Virginia governor in order to bring another conservative voice and ally to the U.S. Senate.
This high-profile endorsement comes on the heels of Allen's GOP, landslide primary win Tuesday. Allen now faces Democrat Tim Kaine, also a former Virginia governor, in the general election.
* A Republican delegate who opposed the appointment of the openly gay prosecutor and former Navy officer to the Richmond General District Court bench has changed his mind and is now in support of the judicial appointment, according to The Richmond Times-Dispatch.
On May 14, a number of Republican lawmakers voted against Tracy Thorne-Begland's appointment on the basis that the former flight officer violated the Uniform Code of Military Justice when he came out on national television in 1992 to challenge what was then the policy against gays serving in the military.
Others feared he would push a gay-rights agenda on the bench.
Now, Del. Richard L. Morris—who spent 22 years in the Navy and was one of the Republicans who voted against Thorne-Begland—says he has done an extensive review of Thorne-Begland's military record since the vote and thinks he did not violate military law and his conduct in the service should not disqualify him from the judicial appointment.
The RTD obtained a copy of the letter:
""After careful consideration, I have changed my position on Mr. Tracy Thorne-Begland being appointed as a judge to the General District Court," Morris writes in a four-page single-spaced memo obtained by the Richmond Times-Dispatch."

"Speaking out against an administrative policy is not a violation of Navy regulations," Morris states in his memo.

"Mr. Thorne-Begland did not speak against a military engagement or war, the commander-in-chief, or undermine the current administrative policy and that it should be changed," the letter states.

"Nowhere in Navy regulations does it state that one cannot speak out against an administrative policy. In fact, throughout the history of the United States military there have been many who have spoken against certain administrative policies of the military in an effort to change those administrative policies."
The Washington Post editorial board wrote that Wednesday's D.C. Council meeting was a breath of fresh air because the open airing of disagreement was a "reassuring sign of lawmakers showing they had nothing to hide."
"Wow. This is the most scorched earth council debate I have witnessed in past 3 years," Post reporter Tim Craig tweeted. "Could you imagine watching this DC Council debate if you are new to the city?" D.C. State Board of Education member Patrick Mara tweeted. At one point, council member David A. Catania (I-At large) decried the debate saying, "The less the population sees of this, the better."

We disagree. "Today," as Jack Evans (D-Ward 2) said, "there was complete transparency and complete debate." The questions about Mr. Brown are good ones, and the public was entitled to hear the discussion. It's commendable that the council didn't, as has been its wont, hammer out an agreement in a back room and then present it to the public with fake unanimity. One council member criticizing another may have caused some discomfort, but if there had been more willingness to speak out and less group-think, some of the problems of the past might have been averted.
Is this the worst time in D.C. government history? Washington Business Journal asks and has responses from the council members who know best.
* Political consultant Julius Henson was led out of a courtroom in handcuffs and sentenced to a 60-day sentence for his involvement in the infamous "relax" robocall scandal.
The Baltimore Sun editorial board asks whether the sentence was too tough and concludes that jail time for Henson and nonenot for aide Paul Schurick is an unfortunate disparity, but the latest robocall sentence is well within reason.
"But if we had to choose, we would have given both men the sentence Mr. Henson received. Maryland has been embroiled in such a wave of political corruption — up to the conviction Tuesday of a Prince George's delegate who used state money to pay an employee of her law office — that someone in the judiciary needed to put his foot down. Sending Mr. Henson to jail is a powerful signal, but it's not shocking. He has long been known as a dirty tricks artist. Jailing Mr. Schurick, once the right-hand-man of a Maryland governor, would have been a much stronger message."
* Virginia state revenue collections increased 8.3 percent in May compared with the same month of last year, Secretary of Finance Richard Brown announced Wednesday.
Strong individual withholding receipts, which rose 16.8 percent, drove the gains, in part because of an extra deposit day compared to May of last year.
Corporate income tax revenues, which rose 54.9 percent, also contributed to the growth.
Overall, total revenue collections this year increased 6.2 percent through May, outpacing the forecast of 4.5 percent growth.
"Virginia's recovery continues to demonstrate why this is the best state in the nation in which to do business and live the American Dream," said Governor McDonnell in a press release. "Our falling unemployment rate, down to its lowest point in over three years, and recent positive news about state revenues, are a result of the common-sense policies we've enacted here in Richmond, and, more than anything else, the innovation, talent and skill of the incredible people of this state. This is a recovery driven by the energy and entrepreneurship of the people of Virginia."
* An op-ed columnist for the Daily Caller asks if Maryland is the next California, which has a deficit that recently doubled to $16 billion.
The columnist Dave Schwartz, who is the Maryland Director of Americans for Prosperity, attributes California's troubles to decades of liberal policies that spend too much and are too reliant on a shrinking tax base.
"One would think that other states would be desperately trying to avoid repeating California's mistakes. Enter Maryland's Democratic governor, Martin O'Malley. Just days after Brown's embarrassing declaration, O'Malley signed into law one of the largest tax hikes in Maryland history, capping a special legislative session where he increased spending by half a billion dollars.

While Maryland's problems are not as severe as California's and the bloated federal workforce generally shields Maryland from high unemployment, Maryland risks becoming the next California. O'Malley and his Democratic supermajority in the legislature have certainly put the state on a similar, unsustainable path."
* Miss Vincent Orange's bizarre behavior on the dais Wednesday?
The Post's Mike DeBonis walks readers through it and asks what Orange thought he accomplished from the outbursts.
"His behavior took bizarre turn after bizarre turn. Orange led off with a demand to be allowed to show a "one-minute clip" on video screens during the debate (which, he later revealed, was a news clip of him and Mendelson working together). Then he moved on to thinly veiled slams on his colleague, where Michael Brown's name was not mentioned but his tax issues, his 1997 conviction on a campaign finance charge and even his pending divorce seemed to be referenced. Failing that, Orange appealed to party loyalty and tried to guilt his Democratic colleagues into voting for him over Brown, a nominal independent (and the son of a former Democratic national chairman and a Barack Obama surrogate). And when at long last it was clear he was going down, he said he was having a "Pacquiao moment" — comparing himself to boxer Manny Pacquiao, robbed by split decision this weekend.

The performance, egged on and in some cases trumped by the supportive comments of Marion Barry (D-Ward 8), prompted a full-frontal display of legislative id with various members questioning each other's histories and motives. The rancor escalated to the point that Yvette Alexander (D-Ward 7) choked up while admonishing her colleagues to knock off the "backbiting and foolishness."