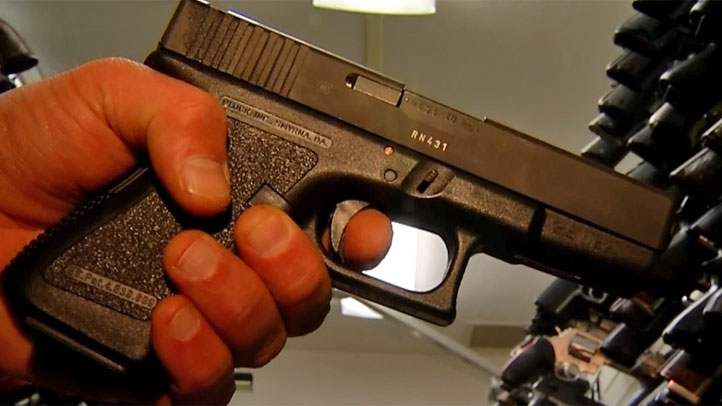 A new poll found that Marylanders are overwhelmingly in favor of Gov. Martin O'Malley's proposed strict gun law package.
Eighty-five percent of Marylanders support the governer's plan to force residents to submit to fingerprinting, a gun safety course and a background check before purchasing a gun in the state, according to a poll by The Washington Post. If these laws are passed, they would be among the strictest in the nation.
In the wake of the Sandy Hook shooting, 58 percent of respondents said they supported having an armed guard in every school in the state.
The state Senate began discussing the gun control package Tuesday and say they hope to have a vote by Friday.
The Post's poll also asked Marylanders about another one of Gov. O'Malley's big initiatives: the repeal of the death penalty.
Overall, respondents were less supportive of this push, with 60 percent of Marylanders believing the law should still allow for the death penalty, and 36 percent in support of repealing it and replacing it with life in prison without parole.
IN OTHER NEWS:
* Gov. Bob McDonnell said it is unlikely that Lt. Gov Bill Bolling will actually run as an independent. (MSNBC) But Bolling's camp responded and said he is indeed seriously considering a run. (The Washington Post)
* A D.C. resident has launched a petition to try to get the city's 19 outdoor public pools to open at 10 a.m. instead of noon after Memorial Day. (DCist)
* Sen. Elizabeth Warren can officially call D.C. home. The newly elected Massachusetts Democrat purchased a two-bedroom, two-bathroom condo in Penn Quarter for $740,000. (The Reliable Source)
* Letters containing a suspicious substance that were sent two to Virginia congressmen Friday have been deemed harmless. (AP)
* The Maryland State Department of Education reportedly failed to complete required inspections and criminal background checks at numerous private daycare centers and preschools across the state. (Washington Examiner)
* A business competitor of Jeffrey Thompson -- the D.C. Medicaid contractor who allegedly financed Mayor Gray's shadow campaign -- said Thompson's Chartered Health Plan received improper special treatment from city officials in 2004. (Washington City Paper)
* Conservatives blast McDonnell and rule him out for a national run in 2016 over a transportation bill compromise. (American Prospect)
* At the National Governors Association this weekend, Gov. Martin O'Malley was overshadowed by Secretary Hillary Clinton as a presidential contender. (Buzzfeed)
* Prince George's County is pushing for Greenbelt as the site of the new FBI headquarters. (Washington Examiner)
* A property tax hike could be in the cards for Fairfax County residents as the Board of Supervisors looks to avoid a budget shortfall in years to come. (News4)