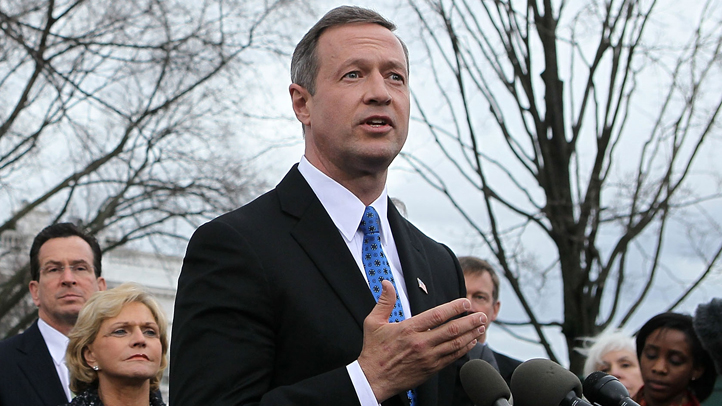 Earlier this month, Morning Read asked if Gov. Martin O'Malley would once again push to abolish the death penalty this year.
Although we still don't know, it definitely seems to be something on his mind. The Baltimore Sun reports that O'Malley is meeting with NAACP President Ben Jealous at the State House today (upon Jealous's request) to discuss the repeal of the death penalty. The NAACP is one of the biggest opponents to the death penalty and says it will launch its largest ever effort to get Annapolis to abolish it, spending more money in Maryland than it has in any other state.
The NAACP will hold a news conference after the meeting.
On Tuesday, an op-ed in the Huffington Post said O'Malley should use his "ability to get things done" to repeal the death penalty.
"In Maryland, politically, it's a paper tiger. For the sake of his legacy, and for the sake of promoting and leading us to a more humane form of criminal justice, Governor O'Malley needs to accomplish death penalty repeal in 2013. And it won't even be that hard."
There have been no death sentences in Maryland since 2004.
O'Malley tried to repeal the death penalty in 2009, but could not get it past the Senate. The Senate has since become more liberal.
IN OTHER NEWS:
* Mayor Vince Gray denies The Plan
* In poll, Gov. McDonnell gets good marks and the Cuccinelli/McAuliffe race is a toss-up
* Six of country's ten richest counties are in D.C. area
* D.C. Council member employed by street-paver wants more street paving
* D.C. fifth and eighth graders are well-versed in emotional health-issues, but have a lot to learn about the human body
* Can we make Chinatown greener?

* Patrick Mara announced candidacy in special elections for at-large council seat
* Rep. Jim Moran's son pled guilty to felony domestic assault charges for allegedly assaulting his girlfriend, but now both claim this was a broken shoe mishap?
* Mayor Gray says 51,000 residents have found jobs with help of city program
* WaPo Editorial Board: Few benefits from appointing Anita Bonds for such a short term on D.C. Council
* D.C. lottery game bidder back with new partner

* Virignia offshore wind development gets assistance from U.S. DOE