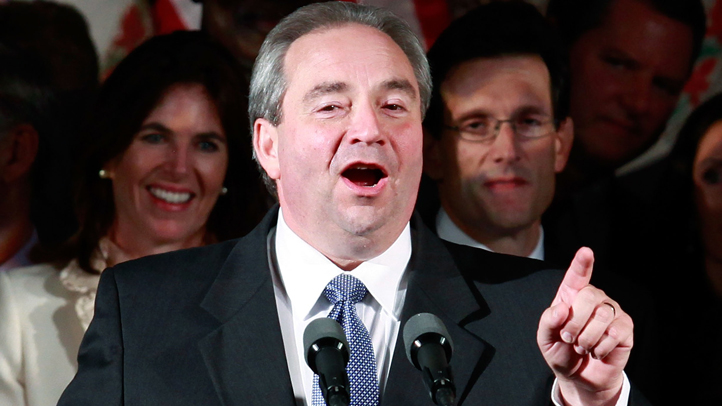 Update: Lieutenant Governor Bill Bolling has dropped out of the Virginia's gubernatorial race, leaving fiery conservative Ken Cuccinelli, the state's attorney general, as the party's likely nominee for the top office in the state.
Late Wednesday, Bolling released a statement that said he believed a prolonged campaign between Cuccinelli and himself could "create deep divisions within our party" - particularly after the Virginia State Central Committee voted to move from a statewide primary to a closed party convention.
"I know how divisive conventions can be," Bolling's statement read. "The convention process would have forced Republican activists to take sides against their friends in local committees all across our state. The wounds that can develop from that type of process are often difficult to heal."
"At a time when we need to be projecting a positive image and reaching out to involve more Virginians in the Republican Party, I am unwilling to be part of a process that could seriously damage our image and appeal," it read.
Read Bolling's full statement here.
Previously: Virginia Lieutenant Governor Bill Bolling is expected to drop out of the state's gubernatorial race Wednesday morning, Politico and CNN report.
This leaves fiery conservative Ken Cuccinelli, the state's attorney general, as the party's likely nominee for the top office in the state. He will face former DNC chairman Terry McAuliffe in the general election. (Sen. Mark Warner announced this week that he would not run for the position.)
Bolling is believed to be dropping from the race because he simply could not beat Cuccinelli, who has gained major name recognition throughout the state for his outspoken stance on high profile issues like Obamacare, climate change and abortion.
The lieutenant governor has always held a weird spot in the primary: He is the establishment candidate with the backing of Gov. Bob McDonnell and Mitt Romney, yet was always the underdog in the race.
Bolling's position as the underdog was solidified over the summer when a more conservative wing of the state's GOP decided to choose the nominee through a closed convention of credentialed Republicans. This nominating process heavily favors Cuccinelli, who is a favorite among Tea Party conservatives.
In comparison to Cuccinelli, Bolling is moderate. He had been banking on moderates and independents to show up to Virginia's open primary—which is open to everyone, not just registered Republicans—and nominate him.
In the wake of the election, Bolling told Politico the results of the presidential and senate elections showed that "ideological firebrand" politics cannot win a race and that he is "the only Republican candidate for governor who's actually electable next November."
"If we're going to win these races in Virginia going forward, we've got to be very smart and our efforts have to be very targeted," said Bolling, who chaired Mitt Romney's campaign in state. "We have to nominate candidates who can not only energize the base of our party, but can also reach out to the more moderate independent voters."
If Romney had won the presidency he was expected to name McDonnell to a cabinet position, making Bolling the governor for 2013 and giving him a boost in the race.
Now, it remains to be seen if Cuccinelli is electable and can appeal to enough moderates and conservatives to pull off a win against McAuliffe next November.
IN OTHER NEWS:

* The future of the Corcoran museum has never looked more uncertain
* McDonnell says he's "interested in the American Dream" but coy on what that actually means for his future
* The mystery council member who had his chief of staff call the DMV to void 10 of his personal parking tickets is none other than the already-jailed, former Ward 5 Councilmember Harry Thomas Jr.
* The District issues a call for interested developers for the major St. Elizabeth's East Campus development project
* Here's why you should wear a helmet while biking
* A cool tool to see how many people are riding Metro and where they are going
* With the help of a state-backed loan guarantee, a food processing plant will expand in Maryland and add more jobs
*Who actually paid for all these free turkeys in the District?

* Maryland Delegate Jon Cardin (D-Baltimore County) is mulling a run for Attorney General.