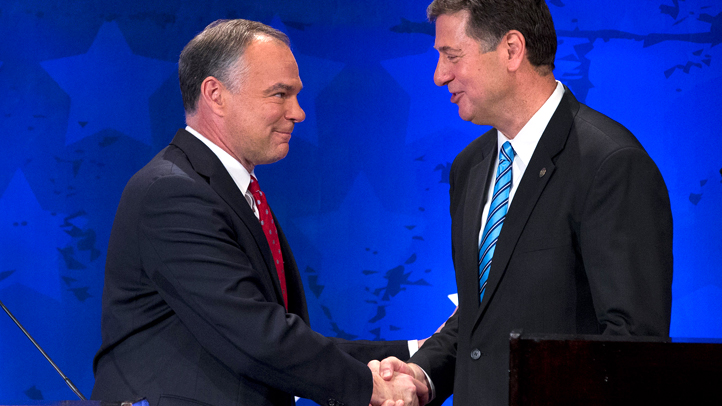 Virginia's two former governors vying for the state's open Senate seat will face-off tonight for their final debate before Election Day.
The hour-long debate at Virginia-Tech is at 7 p.m. and will air statewide on CSPAN and on the NBC-affiliate in Roanoke.
The race between Democrat Tim Kaine and Republican George Allen has been one of the most highly-anticipated of this election cycle. Outside money from around the country has been flooding the race. In fact, with a combined total of $25 million, it's been the most expensive Senate race of the election. Through Sept. 30, Kaine has reportedly spent $13 million and Allen $8.6 million
With all that money, the race has pretty much been in a deadlock for the last few months (although recent polling shows Kaine pulling ahead a bit.)
All this hype and money largely has to do with Virginia's status as an important swing-state this election. The presidential candidates and Senate candidates have all been paying a high price to try and capture Virginia's undecided voters. The National Journal has an article on why Virginia is Ground Zero in 2012.
In another good write-up about the race, The Post has a long profile on Allen and the more cautious, humbler side he is showing to voters after his failed Senate race against Jim Webb in 2006.
The past six years have not exactly been a nightmare for George Allen, but for a man not given to introspection, this has been a tough time. It's in his voice, more subdued now, even at campaign rallies. It's in his demeanor, which friends and foes alike say has grown cautious, steering away from the backslapping and kidding of the happy warrior, the candidate Democrats as well as Republicans called one of the best retail politicians they'd ever seen.
Both the candidates are out with new ads right before the debate. Here's Allen's and Kaine's television spots.
IN OTHER NEWS:
The mystery behind Eleanor Holmes Norton's wad tweet
* D.C. ethics board goes public
* D.C. speed camera fines: Which way are the fines going to go?
* An anti-same sex marriage ad in Maryland features the suspended Gallaudet diversity officer
* Radio host stunned by Kaine canvasser

* Growth at NIH and Walter Reed will require a traffic control plan