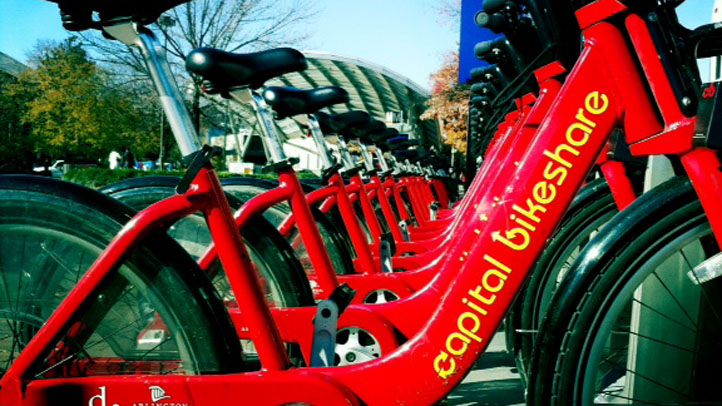 The Labor Department is investigating Alta Bicycle Share -- the company that runs Capital Bikeshare -- after a former employee alleged that the popular bicycle-sharing network may have underpaid some of its workers for more than two years.
The Washington Post reports that Capital Bikeshare operates the system under a 2010 contract with the District's Transportation Department worth up to $16.4 million over five years. The contract stipulates that the company must follow federal "prevailing wage" determinations.
The employee says he was paid $13 an hour for work that should have been paid the "bicycle repairer" rate of $14.43 hourly or "truck driver, light" at $15.66 hourly. He did get a raise to $15 per hour before he left, according to the Post, but was not paid the fringe benefits required by federal law.
IN OTHER NEWS:
* D.C. council candidate Patrick Mara wins absentee ballot count, still loses race. (Washington Post)
* McAuliffe's 2008 memoir is coming back to haunt him in the governor race. The book includes glowing revelations, including him nearly missing the birth of his daughter so he could attend a ritzy party in honor of the then-Washington Post gossip columnist. (Daily Beast)
* Federal prosecutors have accused Jeffrey Thompson of obstructing their corruption probe into Mayor Gray's 2010 campaign, according to a court order unsealed Monday. (Washington Post)
* Penn National Gaming, a Pennsylvania gambling company that spent more than $40 million to prevent a gambling expansion in Maryland, plans to bid on the Prince George's County casino license that was part of that expansion. (The Daily Record)
* D.C. Councilman David Grosso says he will not vote for or against any contract -- he will only vote present -- because he doesn't think the council should be in the business of approving contracts. (Washington Examiner)

* The Virginia gubernatorial race gets more substance as both candidates start to lay out specific visions of what they would do if elected. (Washington Post)
* McAuliffe officially kicked off his campaign Monday in Richmond. (Richmond Times-Dispatch)
* The Montgomery County Council approved Monday a proposal that some lawmakers say would "fast track" construction of a Walmart in Aspen Hill. (Washington Examiner)