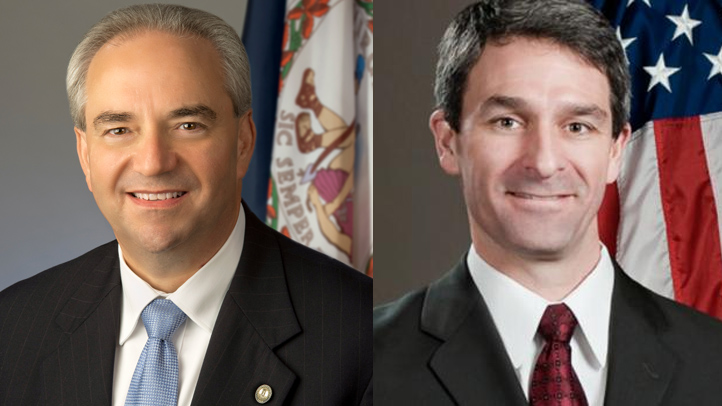 The big news of the day in Virginia was undoubtedly Lt. Gov. Bill Bolling's announcement that he would be dropping out of the governor's race, leaving the more conservative Attorney General Ken Cuccinelli as the likely GOP nominee (unless, of course, White House party-crasher and gubernatorial candidate Tareq Salahi pulls out an upset)
Bolling's explanation for why he was suddenly dropping out was the obvious one; the closed party convention process of picking the nominee favored Cuccinelli and made it impossible for him to win. He said he didn't want a bitter primary that he wasn't going to win to divide the party before the general election.
His lengthy statement, in part, read:
For the past several months my campaign team has worked hard to restructure our campaign to effectively compete in the convention process. While we have made a great deal of progress, I reluctantly concluded that the decision to change the method of nomination from a primary to a convention created too many obstacles for us to overcome.

In addition, I know how divisive conventions can be, and I was concerned that a prolonged campaign between Mr. Cuccinelli and me could create deep divisions within our party. The convention process would have forced Republican activists to take sides against their friends in local committees all across our state. The wounds that can develop from that type of process are often difficult to heal.
Immediately after his announcement, many questioned whether Bolling would run as an independent. There was a part of his statement Wednesday that was particularly vague and could be used to support the theory of an independent run.
I intend to remain actively involved in the 2013 campaigns – perhaps not as the Republican nominee for Governor, but as a more independent voice, making certain that the candidates keep their focus on the important issues facing our state and offer a positive and realistic vision for effectively and responsibly leading Virginia.
The Washington Post jumped on this and wrote a piece asking this very question and said a top adviser to the Bolling campaign didn't refute the suggestion. Later, Bolling told the paper he had no current plans to run as an independent, but did not rule out the possibility
The Washington Examiner had a piece coming to the opposite conclusion, saying Bolling's statement categorically ruled out an independent bid, and the Bolling campaign was just having a little fun by giving coy answers and keeping his name in the news a little longer. Here is the part of the statement the Examiner cited:
"While it may have been in my self-interest to have continued the campaign and done my best to win without regard to the consequences of those actions, I have never chosen to place my self-interest ahead of our Party's best interest, and I will not do so now.
The National Review wrote that an independent run isn't likely. Bolling is a loyal GOP member and running as a third party candidate would burn a lot of bridges for him.
Whether or not Bolling does run as an independent, it appeared on Wednesday morning that the gubernatorial race would be between Cuccinelli and former DNC chair Terry McAuliffe. McAuliffe issued this statement Wednesday:
"It is disappointing that more mainstream Virginia Republicans are being driven out of leadership by the far-right," said McAuliffe. "Virginia voters have repeatedly made clear that they prefer mainstream leaders building consensus instead of politicians pursuing their own ideological agenda."
But by afternoon rumors were circulating that former Rep. Tom Perriello, who is now at the Center for American Progress, was mulling a run for the Democratic nominee.
The Virginia gubernatorial was already going to be a high-profile race , but the shakeups Wednesday turned it to chaos, making it one, Talking Points Memo wrote, "you can't take your eyes off."
* The other big news coming out the DMV Wednesday was the announcement that LivingSocial Inc. would be cutting as many as 400 jobs Thursday, a little less than ten percent of its entire workforce. It is not known how many of the layoff would come from its home base in D.C., but there are expected to be some.
The daily deal company posted big losses this year, with a net loss of $566 million in the third quarter.
The layoffs raise questions of the fate of the company's $32.5 million tax break. The D.C. Council voted to give the company the tax break on the condition that it would expand its 1,000 employee D.C. work force and move into new District headquarters of at least 200,000 square feet.
Matt Yglesias of Slate wrote that LivingSocial's announcement illustrated the problems of such tax incentives:
The tax incentives were nominally about job creation, but a $32.5 million subsidy for a firm employing 1,000 people in its D.C. office most of whom have in-demand job skills doesn't make much sense on its face. The real issue is that these weren't just jobs, they were sexy high tech startup jobs—exactly the kind of jobs that every American city is chasing. And D.C. has a particular tendency to view its local economic focus—the federal government and related industries—as a kind of source of shame. Everyone was excited that Living Social started up here and everyone wants it to stay and succeed.

But startups fail all the time. That's in the nature of the game.
IN OTHER NEWS
* Police take unit out of Chinatown and the community isn't happy
* The candidates interested in the D.C. special election
* City opens valuable Florida Avenue NW parcel to development options
* Doug Duncan running for Montgomery County executive again
* Arlington to double its number of Capital Bikeshare stations
* Computers stolen from three D.C. public schools over break