The pregnant high school teacher who was missing from Maryland was found buried in a shallow grave on Wednesday, and her boyfriend has been charged with killing her.
Laura Wallen, an Olney, Maryland, resident who was four months pregnant, had been missing for nine days. A search and rescue team found the 31-year-old's body about noon Wednesday in Damascus, Maryland, Montgomery County Police Chief Tom Manger said in a news conference Wednesday night.
Wallen's boyfriend, Tyler Tessier, 32, was arrested hours later and charged with first-degree murder. On Monday, he spoke at a news conference with Wallen's family, holding his girlfriend's mother's hand.
Police said Tessier was the father of Wallen's baby and asked Wallen's father for permission to marry her despite being engaged to another woman.
"He has been deceiving and lying their entire existence and their relationship was the only thing that Laura and her family ever fought about," Wallen's father, Mark Wallen, said after a judge ordered Tessier held without bond Thursday afternoon.

Police said both women knew about their past relationships with Tessier, but both believed he was dating them exclusively. According to charging documents, Wallen sent Tessier's fiancee a text message on Aug. 28 asking if the two could meet.
"It's important that some things are cleared up and I would imagine that if you were in my position, you'd want some answers as well. By no means is this an attempt at confrontation, just looking for an explanation," the text message read.
Local
Washington, D.C., Maryland and Virginia local news, events and information
She was reported missing a week later. Tessier told police he last saw Wallen alive Sept. 4, but her family said they hadn't seen her since Sept. 1.
Investigators have interviewed Tessier's fiancee, but police have not said whether they believe she was involved.
On Monday, Tessier, of Damascus, pleaded for his girlfriend's safe return.
"If somebody has her, please understand that you've taken away a huge person in so many people's life," Tyler Tessier said Monday. "I don't know where she is. I don't know. I pray that she's safe and that she comes back. That's all I care about."
Police had suspected Tessier's "involvement" since the investigation began, and allowed him to speak at the family's news conference as an investigation strategy, Manger said.
"The decision to allow him to participate in that news conference was a calculated decision made by the detectives in this case for the express purpose of hearing what he had to say. It was done with the approval and knowledge of the victim's family," the police chief said.
"He is a monster and he is a liar," Mark Wallen said. "And it was absolutely the hardest thing my wife could do would be to sit next to him and hold his hand."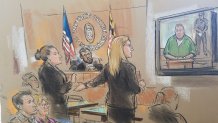 The investigation is ongoing.
It could not immediately be determined if Tessier had an attorney.
In additional to murder, Tessier was charged with altering evidence and making a false statement to an officer.
Wallen was a beloved social studies teacher at Wilde Lake High School in Columbia, Maryland. Her students and coworkers worried when she failed to show up for the first day of school on Sept. 5.
"She was exemplary," district superintendent Dr. Michael Martirano said early Thursday. "She led with her heart, care and compassion."
Grief counselors were available at the school.
Manger said Tessier was the last person known to have seen Wallen. Surveillance video shows the two together on Saturday, Sept. 2, at a grocery store near Wallen's home.
Later that day, Wallen texted her sister and said Tessier had taken her on an "adventure" to a farm.
"Tyler has me on an adventure in the country ... don't know why I'm here but it's for something," she wrote, court records say.
"Really where are you?" her sister replied.
"I'm waiting in a field," Wallen wrote.
"Take a picture," her sister said.
Wallen sent a photo of a large field with a tree line, police said.
Her body was found in what appears to be that same field. The property, near Prices Distillery Road, belongs to a close friend of Tessier, according to charging documents.
Wallen's sister told police she received a "troubling" text message from Wallen's phone on Monday, Sept. 4. Manger said Tessier is believed to have actually sent the text, which read, "The baby isn't Tyler's."
The text went on to claim the baby belonged to an ex-boyfriend, a man police say she hadn't seen in two years. According to charging documents, the name of the ex-boyfriend was misspelled in the text, which Wallen's sister found odd. Additionally, the texts "were not consistent with the writing style she has come to know," police said.
Police say Tessier also gave conflicting statements about his last interaction with Wallen.
According to charging documents, Tessier initially told police that he last saw her on Monday, Sept. 4. During that meeting, Tessier said Wallen was "crying hysterically" and asked him to give her back the key to her home.
Tessier claimed he later asked her to meet him at Columbia Mall, but she never showed up. Investigators noted that the mall is across the street from where Wallen's car was found.
Police say Tessier told them he went back to her home, but didn't go inside because he had given her his key. But a neighbor later told police they saw Tessier walking Wallen's dog that afternoon. Wallen's family found the dog inside her locked home that evening.
During his last interview with police, Tessier claimed Wallen told him that he was not the father of her child and that she needed time to go tell her ex-boyfriend that he was the father, charging documents state.
Manger said Tessier drove Wallen's Ford Escape to the Columbia area, and he admitted to getting rid of the front tag. Tessier also admitted to throwing out Wallen's driver's license and iPhone, Manger said.
Tessier told police he got rid of the items to "buy her time," charging documents say. When police asked him to spell the name of the ex-boyfriend, investigators say he misspelled it the same distinctive way it was misspelled in the text message Wallen's sister received.
Wallen's Ford Escape was found Sept. 7 at an apartment complex in Howard County. The SUV was not far from Wilde Lake High.
Tessier also texted an acquaintance asking for a ride to Baltimore and their help "to clean up a mess," Manger said. That person declined to help.
Wallen's body finally was found Wednesday, Sept. 13. Members of a search team saw a freshly dug area on a large farm, and then cadaver-sniffing dogs found Wallen's shallow grave. A purple piece of fabric was in plain view, police said.
"Laura is in the loving arms of God now," Mark Wallen told a News4 reporter via text message on Wednesday.
Tessier was living in three different locations, Manger said, adding that police have interviewed everyone who he lived with.
Manger said the owner of the property where her body was found has no involvement with her murder.
An autopsy will determine Wallen's exact cause and manner of death.
Wallen's family said she was excited about her pregnancy and posted her sonogram on her refrigerator. She spent the days before her death preparing her classroom for the new school year, friends said.
"We were praying for a good, old fashioned miracle. God did not give us the miracle that I asked for, but he did give us a miracle nonetheless. We have our daughter back," Mark Wallen said.