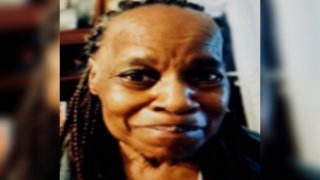 A 77-year-old woman has been missing since Saturday afternoon and D.C. police have issued a Silver Alert to ask the public for help finding her.
Thelma "Pat" Bowman was last seen at 4 p.m. Saturday in the 5800 block of 5th Street NW, police said Sunday. She may be in need of medication. 
Bowman stands 4-foot-11, weighs 140 pounds and has a medium complexion, police said. She wears her long black and gray hair in braids. She was last seen wearing gray pants rolled up, a jean jacket and beige shoes.
Anyone with information on her whereabouts is asked to contact police at 202-727-9099 or by texting 50411.
Stay with NBC Washington for more details on this developing story.