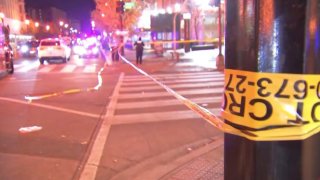 D.C. police are seeking a minivan after a man and woman were shot in Columbia Heights on Tuesday night and a second woman was grazed by a bullet.
The shooting occurred in the 3000 block of 14th Street NW before 7:30 p.m.
Officers responded to the block after hearing shots and found a woman and man with gunshot wounds, police said Wednesday morning. They were taken to hospitals with injuries not believed to be life-threatening. A second woman was found "suffering from a graze wound" and was treated on the scene.
A surveillance camera captured images of the suspected shooter's light-colored Honda Odyssey, police said.
Additional information was not immediately released.
Anyone with information on the crime is asked to contact police. A reward of up to $10,000 is offered.