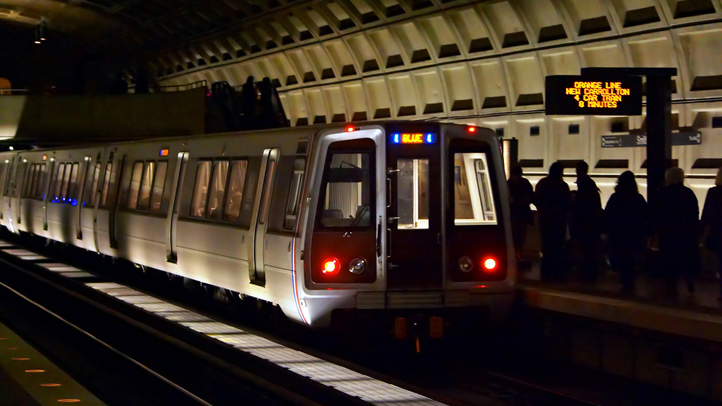 Headed to the National Mall on July 4 to watch fireworks?
Metro is probably your best way to get around, but it will also be extremely busy, with more than 500,000 people expected to hop on that Monday.
Here are Metro's plans for the Fourth and some tips to help you get to you destination and not miss the festivities:
The Plan
First of all, there will be no scheduled track maintenance. That means no single-tracking, and hopefully a smooth trip downtown.
Hours of Operation
Metrorail will open at 7 a.m. and close at midnight. After 6 p.m., all trains will operate every four minutes in the downtown core of Washington.
Beginning at 3 p.m., every other Orange Line train traveling in the direction of New Carrollton will terminate at Stadium-Armory and return to Vienna-Fairfax/GMU.
After 6 p.m., all Yellow Line trains will operate between Huntington and Mt. Vernon Sq/7th St-Convention Center stations.
At 6 p.m., trains will depart every eight minutes from the end of each rail line and trains will depart every four minutes from Shady Grove and Vienna/Fairfax-GMU stations.
Non-peak fares will be in effect all day for the holiday and parking will be free at all Metrorail stations.
Smithsonian Station Closed
Metro said that, due to its proximity to the National Mall, the Smithsonian station will be closed for most of the day. It will re-open for entry only upon conclusion of the fireworks.
Metro encourages people to use other stations, such as Farragut North, Federal Center SW, Capitol South, L'Enfant Plaza, Archives Navy Memorial, Union Station or Judiciary Square.
Safety and Security
At selected stations, escalators will be intentionally turned off to "meter the flow" of customers entering the system. This is done to ensure that stations and platforms don't become too crowded too quickly.
Due to capacity constraints, no bicycles will be permitted aboard trains on July 4.
Report any suspicious activity or unattended bags to the nearest Metro employee or police officer -- or call Metro Transit Police at (202) 962-2121.
Additional Metro Transit Police officers will be deployed throughout the system, and we'll also have more than 80 Metro administrative employees on hand to provide assistance to customers.
Travel Tips From Metro
Make sure you have enough value on your SmarTrip card or farecard to complete your entire round trip. Or, if you're just in town for the day, consider purchasing a One Day Pass.
Avoid using Federal Triangle station if possible. Consider using Farragut North, Federal Center SW, Capitol South, L'Enfant Plaza, Archives Navy Memorial, Union Station and Judiciary Square stations instead.
If possible, try to avoid having to transfer from one line to another at Metro Center, Gallery Place or L'Enfant Plaza, as these stations are particularly susceptible to crowding conditions.
Bus Service
Metrobus will operate on a Saturday schedule.
Due to street closures near the National Mall and at various locations throughout the region, bus customers can expect numerous bus routes to be detoured. For more information and further updates on specific detours, please check WMATA's website before traveling.
NextBus, Metro's automated bus arrival information service will NOT be able to reflect changes in July 4 bus service.
MetroAccess Service
MetroAccess will operate on a regular schedule, but all subscription trips will be canceled. Customers who wish to travel on July 4th will need to call reservations or visit Metro's website to book their trips.
To the extent allowable by road closures, MetroAccess will provide regular service after the fireworks. Customers planning to attend July 4th events on the National Mall and in the downtown area should expect traffic congestion and delays.