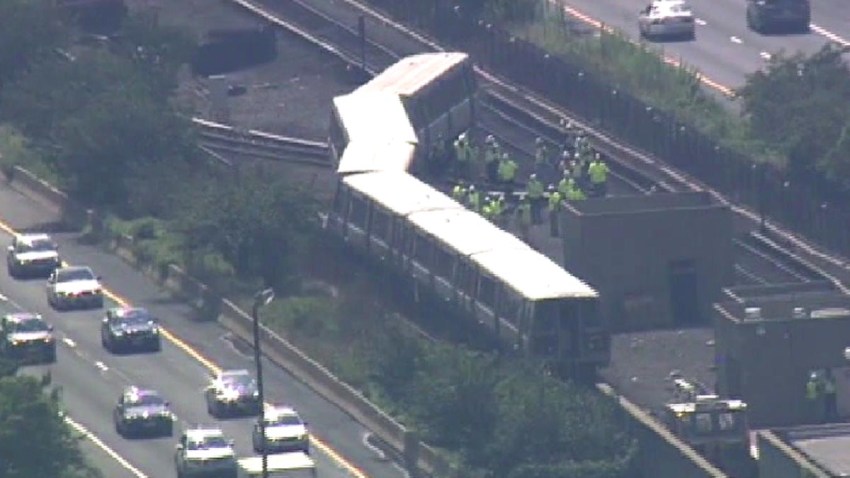 Metro Transit Police are now investigating the derailment of a Metro train outside the East Falls Church station last month.
While Metro's safety department has been conducting an administrative review, the Transit Police will now open a parallel investigation into the July 29 derailment, Metro announced Thursday.
Seventy-five people were aboard the westbound Silver Line train in the early morning when the fourth and fifth cars of the six-car train jolted off the tracks, about 100 feet east of the East Falls Church station.
The train remained upright. One rider said he went to a hospital and was told he had a concussion. No other injuries were reported, according to Metro.
Metro General Manager Paul Wiedefeld reached out to Metro Transit Police after investigators told him about concerns arising from employee interviews, inspections reports, rail defect tracking and video recordings, Metro said.
"While Safety Department investigations determine cause and accountability, it is even more important to understand if other issues must be addressed with the way track inspections and maintenance have been conducted," Wiedefeld said in a release.
In addition, Metro's general counsel has brought on two former assistant U.S. attorneys as special investigators to support the internal administrative review, Metro said.
"The information uncovered to date raises potentially serious concerns, and we will take all actions necessary to get answers and hold people accountable," Wiedefeld said.
In June, Metro implemented SafeTrack, a nearly year-long program which includes scheduled track work to address safety recommendations. Metro has asked an outside engineering firm to conduct a comprehensive review of its track inspection program.
WMATA has said deteriorating track conditions along the Orange and Silver lines caused July 29's derailment, which occurred at an area where the train moves from one track to another, known as interlockings or crossovers.
In a preliminary finding on the incident, the NTSB said the tracks where the train derailed were in "severe" disrepair.
At the time of the derailment, East Falls Church's interlocking had not yet been addressed as part of SafeTrack, according to WMATA.
In response to investigations, WMATA said earlier this month that it will now include crossover tracks in its regular automated inspections, and the crossovers will be inspected twice weekly, as is required by Metro's standards.
The Metrorail system has about 65 interlockings, and six areas have been identified as needing extra work, NBC Washington previously previously reported.