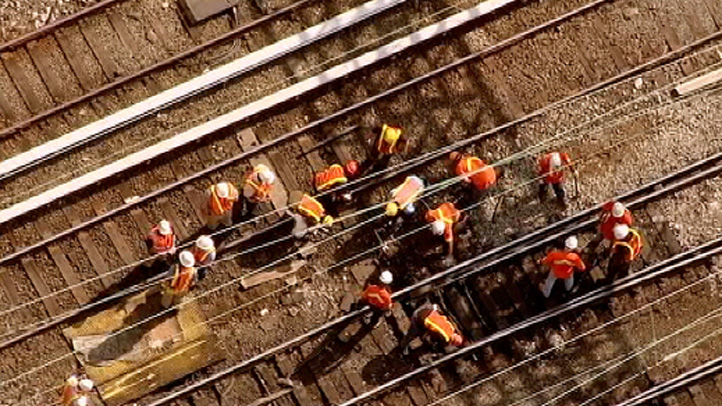 Ask any Metro rider for one of their biggest complaints about the transit system, and you are certain to hear about the track work.
But according to a Metro document, the massive amount of rebuilding that has caused single tracking and added time and frustration to trips, is on a course to be scaled back.
For instance, the majority of start times for weekend track work from July through December are scheduled to start at midnight, rather than an earlier start time like 10 p.m. or even 8 p.m.
"We've been able to become a bit more surgical about where, when and how work takes place to impact riders less," said Metro spokesperson Dan Stessel.
He said that starting on July 1 and going forward:
Weekend shutdowns (when buses replace trains) will begin at midnight Saturday, rather than 10 p.m. Friday.
Shutdowns will not occur on consecutive weekends anywhere on the system, except in the rare instance where a particular type of work (e.g. switch replacement) is so complex as to require it. As a general rule, riders will only see buses replacing trains, at most, every other weekend.
He said in some cases when there are major events at the Verizon Center on the weekend now, Metro is able to hold the track work until those events are over.
"Some of this is driven by safety, as we continue our focus on fatigue management for employees," said Stessel. "But the second consideration is that we are now in a position to reduce the burden borne by our weekend riders as a result of all the work that has happened thus far."
According to a Metro presentation, which will be delivered to the board of directors this week, "shutdowns on consecutive weekends will be reduced and only scheduled if process demands it."
Metro does say it is looking at the possibility of bringing back some daytime single-tracking, but only in locations outside the core of the system where the work will be transparent to riders. Metro hopes that daytime single tracking would also happen in locations (like between Greenbelt and College Park) that allows Metro to keep trains on normal schedule.
As Metro riders know, the transit agency has been conducting what seems like endless track work on the system -- part of a plan to invest $5.5 billion to install new rail, ties, platforms, escalators, signals, lighting and communication systems.
Metro said it is the largest building effort for the transit agency since the system was originally built in the early 1970s.