You've been hearing about it for months, but now it's here: Every Metro station south of National Airport on the Blue and Yellow line is shut down for the entire summer.
The widespread closures will affect thousands of commuters, who now need to decide whether to try out Metro's shuttle buses, hit the road, experiment with biking or taking the VRE, or appeal to their managers for work-from-home options.
Six stations are closed: Braddock Road, King Street, Eisenhower Avenue, Huntington, Van Dorn Street and Franconia-Springfield.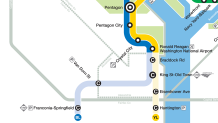 Below, you'll find detailed information on where the closures are in effect and what alternatives are in place.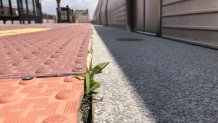 Station Closures: Where, When and Why
Through Sept. 8 (a week after Labor Day), every Metro station south of Reagan National Airport is now closed so that Metro can repair the stations' platforms.
The closures are part of WMATA's larger Platform Improvement Project, which will replace aging outdoor platforms and make them safer and more accessible. Eventually, 20 outdoor stations will be renovated as part of this project.
"The platform restoration project is absolutely a safety issue. This is work that is necessary," Sarah Godfrey, with the Alexandria Department of Transportation and Environmental Services, has said.
But commuters will have to find alternative ways to get around this summer.
Local
Washington, D.C., Maryland and Virginia local news, events and information
Free Parking at 3 Affected Metro Stations
If you want to try using Metro's free shuttle buses, you can park for free at the Huntington, Franconia-Springfield and Van Dorn Street stations. (The other three affected stations don't have Metro parking facilities.)
Metro said the free parking will provide an additional incentive for riders to use their free shuttle buses or other alternative transportation options.
Free Shuttles
Metro is offering five different free shuttle services to help those affected by the changes.
For the Blue Line:
The Franconia-Pentagon Express Shuttle

will operate directly between the Franconia-Springfield and Pentagon Metro stations.

The Blue Line Shuttle

(operated by DASH bus) will stop at Franconia-Springfield, Van Dorn Street, King Street and National Airport. Note that this shuttle will not stop at Braddock Road.

The Landmark-Pentagon Express Shuttle

will operate directly between Landmark Mall and the Pentagon station. This shuttle is only available on weekdays.
For the Yellow Line:
The Huntington-Pentagon Express Shuttle

will operate directly between the Huntington and Pentagon Metro stations.

The Yellow Line Shuttle

will stop at Huntington, Eisenhower Avenue, King Street-Old Town, Braddock Road and Crystal City. This shuttle will not stop at National Airport.
The shuttles will operate seven days per week except for the Landmark-Pentagon Express, which will run on weekdays only. See all shuttle operating times here.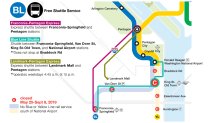 Alternatives: Water Taxi, Trolley, Buses, VRE, Rideshare
Metro has a trip-planning calculator on its website for those looking for a workaround, and Alexandria is offering its own suite of options to aid commuters.
Interested in a change of scenery this summer? You could take a water taxi using the Potomac Riverboat Company's expanded service. Commuter round-trip tickets are available for $10 a day, and a 2019 commuter pass valid through the end of the year is $199. The service advertises 25-minute trips between Old Town Alexandria and the D.C. Wharf, departing about every 20-35 minutes on weekdays starting at 6:40 a.m.
To further alleviate stress on transit in Northern Virginia, the King Street Trolley will start operating earlier, at 6:45 a.m. Monday-Friday and at 9 a.m. on Saturday and Sunday. Its final evening trips remain unchanged.
Alexandria's DASH bus service will also run on its usual schedule during this time.
Fairfax County's Fairfax Connector service will have additional 393/394 express buses.
The Virginia Railway Express (VRE) is another option, running from the far suburbs (as far west as Broad Run and Manassas, and as far south as Spotsylvania and Fredericksburg) to Alexandria and Union Station.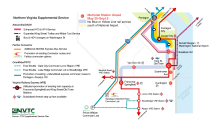 There are also several Metrobus routes that service the affected areas. These include the 8Z, 10A, 10E, 11Y and 21A lines.
The Metroway Metrobus route offers service limited-stop bus service with stops between Braddock Road and Pentagon City every six minutes during weekday rush hours.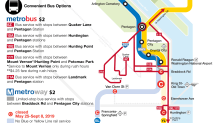 If ride-sharing is more your style, there's always Uber and Lyft. You can also try Via, an on-demand ride-sharing company that expanded its service to Alexandria last week. The company, which started operating in D.C. and Arlington County in 2016, says its rides can be as low as $3.25.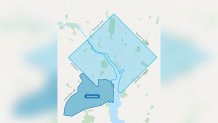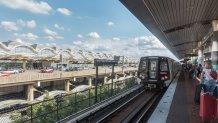 How to Get to Reagan National Airport:
Metrorail service is continuing between the District and Reagan National Airport.
South of the airport, you can take the Blue Line Shuttle.
The Yellow Line Shuttle will not stop at the airport. Riders should transfer to the Blue Line Shuttle at King Street.