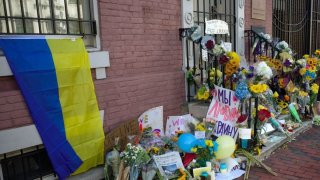 Two men went to the Ukrainian embassy in D.C. on Thursday to ask how they could volunteer in the war-torn country's military and were arrested on weapons charges, police sources said. 
The men, whose names were not immediately released, went to the embassy on M Street NW in Georgetown at about 11 a.m. to inquire about helping the Armed Forces of Ukraine, sources said. 
They asked a law enforcement officer standing outside how they could help. Police then found a shotgun and at least one machete inside their vehicle.
Information on the charges against the men was not immediately released. 
Stay with NBC Washington for more details on this developing story.