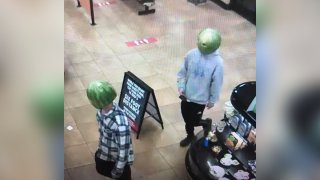 Two thieves decided to forego face masks and opt instead for watermelons while allegedly stealing from a store in central Virginia, police say.
The suspects arrived at a Sheetz convenience store in Louisa on May 6 wearing hollowed-out watermelons with eye holes.
Louisa police said the suspects then stole undisclosed items from the store before fleeing in a "lifted" 2006 black Toyota Tacoma.
Police released photos of the suspects on Facebook, asking for anyone with tips to call them and reference the "MELON-HEADS" case.
On Saturday, police announced they arrested the suspects. They did not identify the two men.
Louisa is about 15 miles west of the Richmond area and about 100 miles south of Washington, D.C.