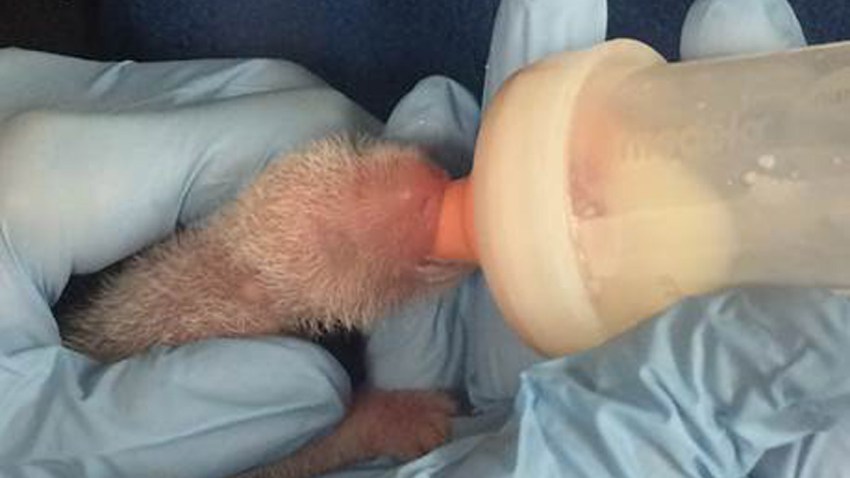 Mei Xiang refuses to give up her larger cub, so National Zoo panda keepers are taking care of the smaller cub.
Mei Xiang, the giant panda who gave birth to two cubs Saturday, has not cooperated with the keepers' cub swapping efforts since 2 p.m. Monday, but they continue to try every four hours. The swapping technique is meant to give each cub a chance to nurse and bond with its mother. Pandas won't usually nurse twins if left to their own devices -- they'll care for one and allow the other to die. The swapping technique has allowed several pairs of panda twins to survive in the past decade, including a set of twins at Zoo Atlanta.
The small cub's behavior is good, according to the zoo, but they are concerned about fluctuating weight now more than 48 hours since birth. Keepers are bottle- and tube-feeding the cub to help it get enough fluids and nutrients. The cub is also getting antibiotics to prevent infection. Veterinarians see no sign of respiratory problems.
The keepers believe Mei Xiang is taking good care of the larger cub, which appears to be doing well, according to the zoo.
Veterinarians also were unable to switch the cubs between 11 p.m. Sunday and 7 a.m. Monday. While Mei Xiang cared for one cub, the other was kept in a incubator and fed a prepared formula of baby formula, puppy formula and water.
Panda keepers at the Smithsonian's National Zoo will continue performing these delicate swaps as long as they're needed and as long as Mei Xiang lets them.
Mei Xiang was seen picking up and licking her first cub at 5:35 p.m., live on the zoo's panda cams. The cub could be heard squealing just after the birth, which zoo officials called a good sign.
The second cub, which zoo keepers were able to retrieve first, was born just after 10 p.m. and weighed almost five ounces.
Around 6:30 a.m. Sunday, vets were able to swap the cubs. The first born cub weighed in at just over 86 grams, about three ounces.
Vets don't know yet who fathered the cubs. Mei Xiang was artificially inseminated in late April with semen from the zoo's male giant panda, Tian Tian, as well as from Hui Hui, a giant panda living in China.
The zoo has not yet taken samples from the cubs to determine paternity, a spokesperson said Monday. When they do perform DNA tests, they will also test to learn the sexes of the newborns.
The cubs will not receive their names until 100 days after their birth in a naming ceremony.
Mei Xiang has previously given birth to four cubs, two of whom survived: male Tai Shan, who was born at the zoo in 2005 and now lives in China, and female Bao Bao, who still lives at the National Zoo. A female cub died within days of her birth in 2012, and another female cub, Bao Bao's twin, was stillborn.
Copyright AP - Associated Press