The "police chief" of Arlington, Virginia, recently took fingerprints, processed a mock crime scene and put his feet up on a desk as he made a phone call -- and he's just 11 years old.
Nathnael Abraham served as Arlington's Chief-for-the-Day on Tuesday. The fifth-grader at Carlin Springs Elementary School is a straight-A student who won a poster-drawing contest.
He rode in a police car with the lights and sirens on, met the dogs of a police K-9 unit and answered some big questions.
"What's the most important crime problem we have to face today?" News4's Pat Collins asked.
"I think the most important crime problem would be robberies -- bank robberies, because they're taking money that belongs to other people, and that's not OK," Nathnael replied.
"What should people do to stay safe?" Collins asked.
"I think they should be careful where they go -- make sure they don't walk into the wrong neighborhood," the "chief" said.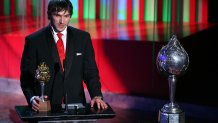 "How should kids stay out of trouble?" Collins asked.
Local
Washington, D.C., Maryland and Virginia local news, events and information
"Don't fall into the wrong crowd. There are some kids that are ... bad kids at school. They will make you do the wrong things," Nathnael said.
The kid chief was awarded a pin with an eagle on it. He said he wants to be a police officer when he grows up.