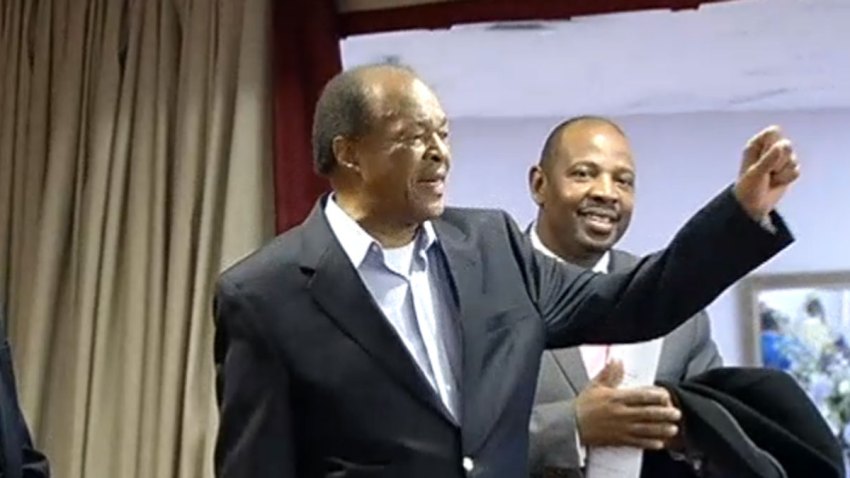 The D.C. mayoral primary is 11 days away, and early voting is underway.

On Wednesday, former D.C. Mayor Marion Barry officially threw his support behind beleaguered Mayor Vincent Gray, saying Gray is "in it to win it, regardless of what the U.S. Attorney does," City Paper reported.

Barry serves as D.C. council member for Ward 8. In a church in southeast Washington, Gray accepted the endorsement "absolutely, heartily."

The Washington Post reported on the nod:
"Barry, 78, praised Gray's efforts on local hiring, affordable housing and even snow removal. And he addressed allegations of wrongdoing leveled at Gray this month by businessman Jeffrey E. Thompson, who, in the course of entering a guilty plea in federal court, said the mayor was aware of hundreds of thousands of dollars secretly spent on his behalf in 2010. Gray has denied wrongdoing.

"'I know Vince Gray is a man of integrity,' Barry said. 'I know Vince Gray is not about taking taxpayers' money. I know that Vince Gray is not about breaking the law. And so I feel comfortable sitting here beside him.'"
The Associated Press reported Barry as saying, "I know about how U.S. attorneys work," a reference to when he served six months in federal prison after a videotape had showed him smoking crack cocaine in 1990. He was later elected to a fourth term as mayor, giving him the title of "mayor-for-life."
IN OTHER NEWS:
The massive number of young newcomers to the District could sway the mayoral election, if only they tuned in. "A lot of my friends don't even have driver's licenses here yet," Jason Lopez, 30, told the Post, "A lot of them came for jobs, so they don't feel a connection to the city. And they don't want to change their vote to a place where, nationally, you have no voice." (The Washington Post)
The Washington Post editorial board believes Muriel Bowser (D-Ward 4) is best equipped to lead the District as mayor. The piece board comes a month after the paper's endorsement of Bowser. (The Washington Post)