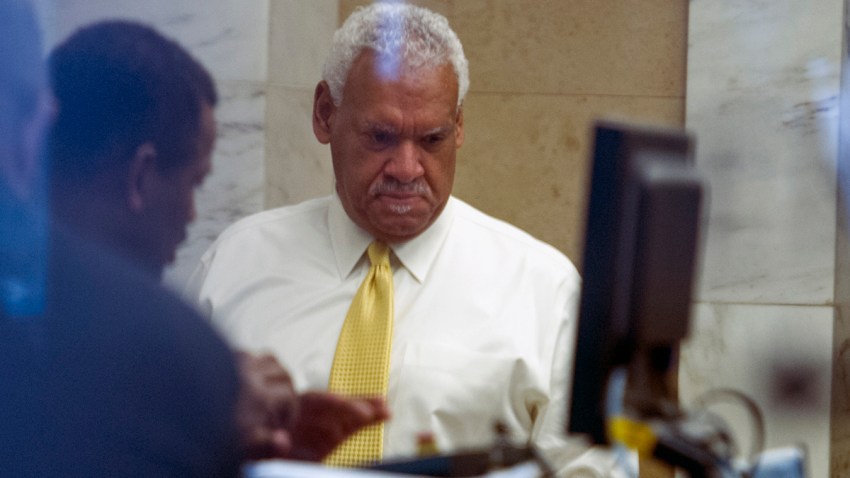 The Democratic mayoral primary is 21 days away, and early voting starts in less than a week -- but to say things are getting complicated for incumbent Mayor Vincent Gray is a vast understatement.
After a three-year investigation, federal prosecutors alleged on Monday a direct link between Gray and a shadow campaign run alongside his 2010 race. Jeffrey E. Thompson, a D.C. businessman with multimillion dollar contracts in the city, said Gray knew of the illegal campaign before deciding to run for mayor, News4 reported.
Prosecutors purported that Gray benefited from more than $668,000 that Thompson donated into the campaign.

Mayor Gray denied courtroom allegations of any wrongdoing to News4. "I was not involved," he said. "The things that I've heard today are fabricated."

According to the plea deal cut between Thompson's lawyers and prosecutors, Gray personally reached out to the businessman, as the Washington City Paper explains:
"Gray allegedly met with Thompson at Thompson associate Jeanne Clarke Harris' apartment in August 2010, according to Thompson's statement of offense, detailed by federal prosecutors at a court hearing this afternoon. Gray associate Vernon Hawkins had originally relayed the request for $425,000 in illicit help, but Thompson had requested an in-person meeting with Gray before committing the money, court papers say.

"Prosecutors say Gray knew the help would be off the books before the meeting. Afterwards, prosecutors say, Gray called Thompson 'uncle' in gratitude, a reference to an alias Gray allegedly used to refer to Thompson, 'Uncle Earl.'"
Thompson directed millions in illicit donations to federal and local campaigns over a six-year period, according to court documents. He was charged with two felony counts of conspiracy.

"His plea gives the citizens of D.C. an inside look at the underground, off-the-books schemes that have corrupted election after election, year after year," said U.S. Attorney Ronald Machen at a news conference after Thompson's hearing, the Washington Post reported.

A NBC4/WAMU/Washington Informer/Marist poll conducted in mid-February showed Gray leading in the primary race with 28 percent support among voters.

MORE COVERAGE:
IN OTHER NEWS:

Mayor Vincent Gray will deliver his State of the District address Tuesday evening, where he is expected to announce a major commitment to education funding. (Office of the Mayor)
Jack Evans rebutted a suggestion made by Muriel Bowser's spokesman that Evans "lacked knowledge about neighborhoods outside Georgetown." (The Washington Post)
Mayor Vincent Gray sent an outraged letter to the U.S. Secret Service. (The Washington Times)