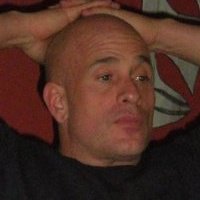 An Anne Arundel County police officer has been arrested by the FBI on charges he was "sexting" with an underage girl.
James Cifala, 47, of Edgewater, Md., was charged Thursday with attempting to receive child pornography, which is a federal crime. A 27-year veteran of the Anne Arundel County Police Department, Lt. Cifala was arrested by FBI agents at the Anne Arundel County police station on Wednesday night.
According to police, the investigation began last year when the parents of a 16-year-old girl told the FBI that their daughter was involved in a sexual relationship with an adult man.
The affidavit alleges that FBI agents recovered sexually explicit text message conversations between the girl and "Johnny," who has since been identified as James Cifala. Images and text messages recovered from the girl's cell phone allegedly show that Cifala exchanged sexually explicit text messages with the girl and that she transmitted sexually explicit pictures of herself to Cifala's cell phone at his request.
According to the affidavit, FBI agents conducted a search warrant of Cifala's home on Wednesday and noticed that the furniture there allegedly matched the background of a sexually explicit photograph Cifala sent to the girl.
The affidavit alleges that there were more than 1,300 contacts between Cifala's cellular telephone and the girl's cellular telephone over just three weeks in the summer of 2009.
In one exchange, Cifala allegedly wrote, "This new phone certainly makes things more fun."
The girl responded, "Love you like crazy you dirty old man."
Cifala faces a mandatory minimum sentence of five years and a maximum sentence of 20 years in prison, followed by supervised release up to life on the child pornography charge. He had an initial appearance Thursday in U.S. District Court in Baltimore.
Cifala is currently behind held in federal custody. A detention hearing has been scheduled for January 22 at 3:00 p.m.
The charge was announced by United States Attorney for the District of Maryland Rod J. Rosenstein and Special Agent in Charge Richard A. McFeely of the Federal Bureau of Investigation, who expressed their appreciation to the Anne Arundel County Police Department for its work on the case.
Rosenstein noted that this case was "particularly disturbing" because it involved someone who has a professional duty of protecting the public and children.
"I hope this case will send a wake up call to parents about the need to monitor their children's use of cellular telephones and other communication devices," he added.
The case was brought as part of Project Safe Childhood, a nationwide initiative to combat child sexual exploitation and abuse launched by the Department of Justice.
Visit the Department of Justice's AMBER Alert site and iSafe for more information on keeping your children safe.