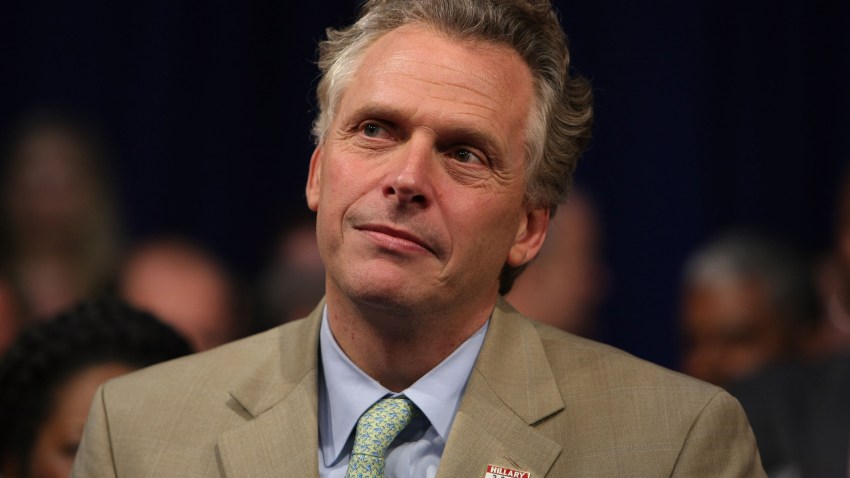 If elected governor next week, Terry McAuliffe would work with Republicans in the legislature and appoint them to his cabinet, the Democratic nominee told GOP supporters Friday on a conference call.

McAuliffe's pitch of bipartisanship comes just days before Election Day. McAuliffe is leading in the polls, dominating television advertising and far outpacing Republican rival Ken Cuccinelli in fundraising. But turnout is expected to be low - perhaps as few as 30 percent of registered voters could come out, the state Board of Elections chairman has warned - and that could be problematic for McAuliffe.

That's why McAuliffe is working to win over Republicans and moderates who view Cuccinelli and his tea party ideals as too conservative or divisive.

"One of my top priorities will be to sit down with as many Republicans in the House and Senate (as possible),'' McAuliffe said during a conference call on which he took questions from Republicans who support him but not reporters.

"Breakfast, lunch, dinner, we'll grab a drink - whatever,'' McAuliffe said later, reiterating he'd let Republicans pick the venue.

In a television ad released later in the day, McAuliffe pledged: "I'm determined to be a governor who finds common ground with Democrats, Republicans and independents. That's the Virginia way.''

During his call, McAuliffe said jobs, education and transportation would be his focus - "they are not partisan issues'' - and pledged to incorporate Republican ideas into his plan, just as incumbent Republican Gov. Bob McDonnell used Democratic input to pass a bipartisan transportation plan.

"There is a broad mainstream coalition that can overcome the extremes,'' said McAuliffe, who supported McDonnell's plan.

Cuccinelli, who opposed the transportation plan, has worked to energize his deeply conservative base in the final weeks of this campaign. They are reliable voters whose opposition to the federal health care law is a driving force. The current Virginia attorney general, who unsuccessfully led the opposition to the law all the way to the U.S. Supreme Court, has their backing even as more mainstream Republicans balk at his rhetoric.

"We need someone in the governor's office who will work with members of both parties to get things done,'' said Judy Ford Wason, a Republican strategist who worked in President Ronald Reagan's White House and now supports McAuliffe.

"Ken Cuccinelli is not willing to put aside his extreme tea party agenda to do what's best for the state,'' said the former Republican National Committee member.

Cuccinelli's campaign has worked to call McAuliffe a fast-talking, ethically challenged political insider who cannot be trusted. Cuccinelli and his allies have criticized him for investing with a Rhode Island estate planner who profited from death benefits paid on policies issued on terminally ill people without their knowledge.

McAuliffe has said he was a passive investor with no knowledge of the estate planner's actions.

"Terry McAuliffe is holding farcical press conference calls, avoiding questions, hiding from the public and doing everything possible to run out the clock before Election Day,'' spokeswoman Anna Nix said.

Cuccinelli, meanwhile, has a packed schedule. He planned to campaign later Friday in Gloucester and Urbana. He scheduled a seven-stop day Saturday and planned another five rallies on Sunday as he flies around the state to meet with as many voters as he can in the campaign's waning days.

McAuliffe did not have public events scheduled Friday, and the next item his campaign has announced for him is a rally with President Barack Obama on Sunday.

"No one is right all the time. I want to hear from Republicans and Democrats constantly,'' McAuliffe said, borrowing rhetoric from his pal, former President Bill Clinton, who campaigned for him earlier in the week. ``The best solutions happen when we put aside partisanship.''

But McAuliffe reiterated he would not compromise on women's health issues, such as abortion or contraception.

"I will be a brick wall,'' McAuliffe said. "I trust women to make their own choices.''

McAuliffe's criticism of Cuccinelli over women's issues has allowed him to open a wide gap among female voters.

A Quinnipiac University poll this week had women backing McAuliffe by 50-37 percent. An earlier Washington Post poll showed Cuccinelli trailing among women, 34-58 percent.
Copyright AP - Associated Press