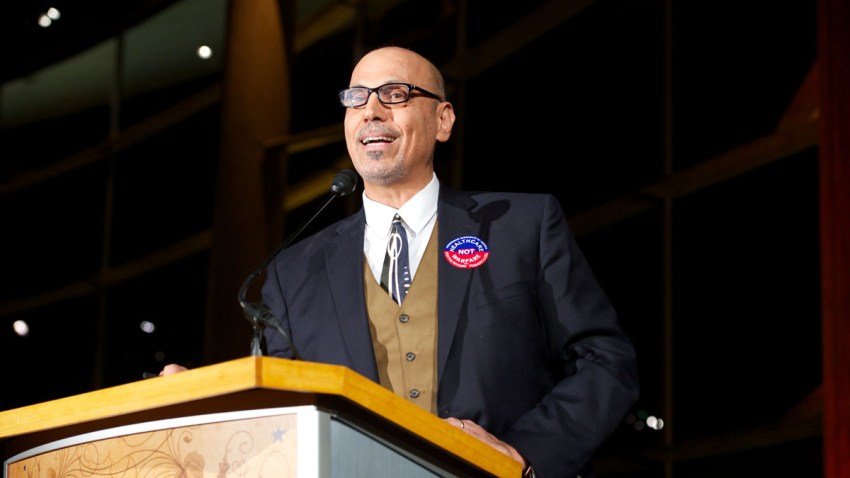 Andy Shallal is outraged.
"You wonder what's happening when you don't see anything changing," Shallal said. "And nobody is saying, 'Wait a minute, maybe we need to make some tweaks here.' Then I feel like I need to speak up, and get involved in many of these issues that are often times not brought up."
Background
An Iraqi American, Anas "Andy" Shallal, 58, immigrated to the United States at age 10. His family settled in Arlington, Va., and at the time, his father served as a representative for the Arab League in Washington.
He may not be widely known, but his restaurants are. In 2005, he opened Busboys and Poets, a restaurant, book store and lounge that's become a community gathering place for progressives. In five years he opened three more Busboys, and on the opposite corner from his flagship restaurant on 14th and V, he opened Eatonville.
"Building a place that celebrates diversity was on my mind as I started to think about creating Busboys and Poets," Shallal wrote on his website. "Whether you're on this side of the river or that side of the river, I wanted Busboys and Poets to be the hub for sustenance, culture and ideas."
He graduated from Catholic University in 1975 and went on to attempt a medical degree from Howard University before leaving after a semester to pursue business. He moved to San Francisco for six years and then moved back to the District. In the mid 1980s, he met Marjan Saghafi, the daughter of an Iranian general. She was hostessing at the restaurant he was managing inside the Omni Shoreham hotel. They married in 1985 and have two daughters together. He also has two sons from a prior marriage.
In 1987, he opened a kabob restaurant called Skewers in Dupont Circle and then Café Luna, Luna Books, Luna Grill and Mimi's American Bistro.
But Shallal's mayoral bid is not his first foray into politics. In 1992, he introduced a measure to limit individual donations to D.C. politicians to $100 maximum for citywide races and $50 for ward races. The initiative passed, only to be repealed and revised upward to $2,000.
As an activist and organizer, Shallal donated $250 to Muriel Bowser's 2008 campaign in Ward 4 and $1,000 to Ward 1 Councilmember Jim Graham's 2010 re-election. He also helped organize Jerry Brown's presidential campaign in 1992 and worked on several races to elect Democrats to the Fairfax County Democratic Committee Board of Supervisors.
"The Way We Handle Race Is Uniquely American"
If there's one area that Shallal is passionate about, it's race, and he hopes that his mayoral bid gets Washingtonians openly talking about the issue.
"What role does race have to do when I walk into the DMV, when I am a white person and there is a black clerk behind the counter?" Shallal asked. "What does race have to do with when I am walking down the street and I'm a young black man in a predominantly white neighborhood? Unfortunately, all of those things are still real in this country and we pretend like it doesn't exist."
Shallal wants to change attitudes toward race. As mayor, he said, he would take his administration on a retreat, where he would ask every department head, "How does race impact the way you act?"
Shallal's own ethnicity allows him to tackle the issue, because he isn't caught in the black-white dichotomy that's pervasive in a city that's seen a succession of black mayors since the end of home rule in 1973. Shallal said he doesn't identify with a race, lending to his larger campaign narrative of inclusiveness.
"I came from outside this country, so my experience has been colored with the idea that race is just some strange construct that was really just uniquely American," he said. "At least the way we handle race is uniquely American."
Shallal's perception of race is rooted in a story he often shares of when he first came to the United States.
His school presented a census form that asked him to mark whether he was "white," "black," or "other." Shallal turned in a blank form. He didn't identify with the first two categories and certainly didn't want to be labeled "other." His classmates called him "high yellow" -- a derogatory term used to describe a light-skinned black person.
In an interview with Rock Newman, Shallal recounted asking his mother its meaning and she responded, "Just be quiet and eat your hummus." It was when Martin Luther King was assassinated that Shallal realized the issue's gravitas, eventually leading to race as the forefront topic of his mayoral campaign.
Vision for the City
Shallal says that the city's marginalized population, mainly residents who live in Wards 7 and 8 -- which includes Benning Road, Bellevue, and Anacostia -- are not reaping the benefits of the District's development projects. He said development is not measured by the number of cranes in the sky, but rather by its impact on the city's poor neighborhoods.
"They need their own economic development in those neighborhoods," he said, "rather than hope that somehow economic development west of the river will just somehow trickle over to the other side."
He said he would heavily invest in affordable housing. Among his initiatives, he would commit $100 million to the Housing Production Trust Fund and provide tax relief that would prevent long-term residents from being pushed out of their homes because of an increase in property taxes.
Shallal would also require developers to build affordable housing on public landm, but, he said, instead of razing affordable housing at one time, he would improve existing buildings.
"I think too often we start moving people out and we scatter them throughout the city and then we start rebuilding some of the public housing," he said. "People can't just pick up and move and expect to come back again."
As a restaurateur, Shallal said, he is acutely aware of the challenges that small businesses face. He said he would kick start growth by providing residents a five percent income tax credit to start their own businesses, creating an oversight commission, and setting up a window at the permit office for small businesses.
He said he would also work with business improvement districts on community projects in Anacostia, such as senior citizen care.
Shallal said education is also a top priority.
"Our neediest students are just not progressing," he wrote on his website. "The inequity in student success across the eight wards is running at an all-time high."
He said he would stop closing schools and turn them around, hiring nutritionists and social workers and connecting with a child's family through home visits. He would also move emphasis away from standardized testing and from evaluating teachers with numeric scores.
Challenges
An NBC4/WAMU/Washington Informer/Marist poll shows Shallal leading the bottom half of the eight-candidate field with 6 percent of the vote. He is followed by Vincent Orange at 4 percent, Reta Jo Lewis at 3 percent and Carlos Allen at 1 percent.
Shallal admits he has little name recognition in the city.
"It takes a lot for people to hear your message," he said. "It's about electing the known candidates and not about finding the dark horses there in the field."
Then there's the question of experience. The four leading candidates understand government and have experience running for office -- though, Shallal said, that doesn't mean council members are more informed as they focus on particular issues.
"I didn't just wake up yesterday and decide to run," he said. "My activism has been going on for many, many years. It's part of my life, so this is just an extension of what I've done."