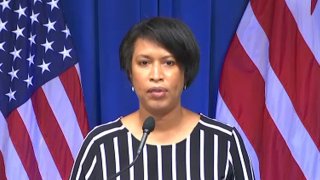 D.C. Mayor Muriel Bowser addressed the District Saturday after protests were held in front of the White House Friday night over the death of George Floyd. She also responded to tweets put out by President Donald Trump Saturday morning.
"We are grieving hundreds of years of institutional racism," Bowser said. "People are tired, sad, angry and desperate for change."
Trump warned in a tweet Saturday that the Secret Service was ready to unleash "the most vicious dogs and the most ominous weapons I have ever seen" if protesters had managed to breach the security lines.
Bowser called Trump's remark's "gross," saying the reference to attack dogs conjures up with the worst memories of the nation's fight against segregation.
Trump tweeted at Bowser saying she "wouldn't let the D.C. Police get involved," in the protests.
D.C. police were present Friday night along with Secret Service and the U.S. Park Police.
Bowser, joined by D.C. Police Chief Peter Newsham, said in a news conference that no one needed to ask police to get involved because they already were. She said they were prepared to support Secret Service in Lafayette Park like they "have done literally dozens of times."
Local
Washington, D.C., Maryland and Virginia local news, events and information
The mayor also emphasized that "at no point" was the chief concerned about losing control of the demonstrations.
"There is no police department in the nation better prepared to safely support Americans exercising their First Amendment rights than the Metropolitan Police Department, and this is well known," Bowser said.
Newsham thanked Bowser for her leadership and said D.C. police officers made no arrests and there were no reported uses of force. He said he believed that "sound tactical decisions" were made. Secret Service officers arrested at least five protesters.
Newsham also said the video of George Floyd's death was "sickening."
"There is only one explanation for that behavior, and that was a complete disregard for human life," Newsham said. "It's troubling to us in law enforcement, who spend every single day building relationships with our community, to see that behavior by somebody who wears this uniform."
Some protesters on Friday said Trump's tweet calling Minneapolis protesters thugs fanned the flames. Protesters chanted "I can't breathe," "black lives matter" and "no justice, no peace."
The protesters gathered at 14th and U streets in Northwest D.C., shutting down the intersection for a time before the group marched to the White House.
The estimated 2,000 protesters moved along to the Trump International Hotel and demonstrated there.
The Secret Service took a woman into custody after she climbed over a barrier. They also arrested five other demonstrators.
D.C. Fire and EMS confirmed multiple Secret Service officers were injured. No protesters were transported.