Caroline Steele had six goals and an assist, Taylor Hensh scored three times -- and top-seeded Maryland beat Boston College 16-13 on Sunday in the NCAA women's lacrosse championship game.
Jen Giles, Megan Whittle and Kali Hartshorn each had two goals and an assist for the Terrapins (23-0), who capped an unbeaten season with their 13th national title.
Maryland played in its fifth straight final and won its third title in four years. The heavily favored Terps scored just 10 seconds into the game and racked up five goals in the first 4:29 of the second half, but Boston College kept it from becoming a runaway.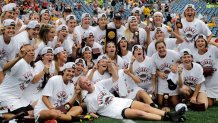 Kenzie Kent had five goals and five assists for Boston College, which reached the championship game for the first time. Sam Apuzzo scored four goals for the Eagles, giving her 80 for the season.
Although Maryland never trailed, the Terps were pushed by Eagles, who battled back from an early 5-2 deficit to tie it at 5-all at halftime.
After being shut out for the last 16:11 of the first half, the Terps stormed out of halftime with five goals in the first 4:29 of the second half to regain command.
Local
Washington, D.C., Maryland and Virginia local news, events and information
Kent kept Boston College close with three straight goals to cut the margin to 11-9, then assisted on Dempsey Aresenault's goal with 14:00 minutes left to get the Eagles back within a goal.
Caroline Wannen scored for Maryland with 12:04 left to start the Terps on another scoring surge. Hensh put Maryland up 13-10, then, after Kent's fifth goal of the game, the Terps picked up three more unanswered goals by Kali Hartshorn, Steele and Hensh with 4:07 left to all but seal another title for Maryland.
Apuzzo added a pair of late goals for the Eagles.
Hartshorn put Maryland up 1-0 on a goal just 10 seconds into the game. Hensh made it 2-0 1:42 later when she plucked her own rebound out of the air and swept it in behind BC goalie Zoe Ochoa. Apuzzo answered with two goals for BC to set the back-and-forth tone that would last until the final few minutes.
Copyright AP - Associated Press